Best Pillow For Reading In Bed [Review] in 2021
Last Updated on November 5, 2021
written by sleep expert Lauren Hall
See full list of products
Find the products quick - here are the review winners
Are you looking for the best pillow for reading in bed?
Well, you aren't alone, many of us face the same issue. I know I did, and that's why I've decided to do some research and make a list so you don't spend as long looking for a pillow as I did. First you'll need a book light and then a good pillow for comfort while reading in bed and you'll be good to go! 
Most of us don't take enough care of our spines and when sitting reading in bed we tend to slouch, hunch, and rarely have enough support to be comfortable so it's important to find the right pillow. However, this isn't always easy due to some models being made poorly or impractically so they aren't soft and perhaps sit at an awkward angle.
Don't panic though, it's not all bad, and here's why?
I've spent the last 5 hours researching information on pillows as well as found five of the best pillows designed for reading on the market. All so you can come away feeling confident with your purchase, or at the very least confident about what to look for.
Every product on here has its own merits so you may find the last pick is more favorable to you than the top pick. In any case, be sure to check them all out as you never know which pillow will be the one for you.
So, let's get going.
We've spent the time researching so you don't have to:
Best Pillow for Reading in Bed Individual Reviews
Brentwood Originals Brushed Twill Bedrest
Available in four bright colors this provides good support for both your back and arms. There's a handy carrying handle so you can move it from room to room and the flat base means it can also stand alone for sitting on the floor. It's easy to spot clean with a damp cloth, though it's not washable. It's ideal for adding softer cushioned support that isn't too firm. It's not particularly big and more suited for someone who is less than 5'7 in height as this is the smaller size to their Shagalicious. The cover is a soft chenille feel and it's cute looking in all bright colors.
It's so soft and comfortable
It's cute looking and sturdy
It's light and easy to move
The fabric is pretty thick and warms quickly to your body temperature
Latest deal: Brentwood Originals Brushed Twill Bedrest
Lavish Home Down Alternative Reading Wedge
With a bundle package of up to three, this is a much more grown-up looking pillow. It's a simple wedge design that can also be turned for sleeping to help with GERD issues. It has a removable and washable cover and is filled with polyester fluff much like standard pillows. The filling is hypoallergenic and it's soft and cloud like.
Latest deal: Lavish Home Down Alternative Reading Wedge
This is a pricey pillow, but it comes in a huge range of colors and is a good size for adults (you can also get it in a small size too). There are 16 different shades to choose from and it comes with an extendable headrest and supports arms. It has a frame inside it to provide firmer support and still weighs only 6.5lb. The covers are removable and washable and it's made in the USA. There's also a matching Leg Lounge to prop your legs up on and you can purchase spare covers in different colors. The arms can also be folded up and the whole thing folds down to be stored or transported. The headrest is also adjustable forwards so you can cradle your head and provide support for your neck as well as your back.
Designed with your back health in mind
Provides the best support.
It's adjustable to fit just about anyone
t's quite firm but that's good for your back
The design is fairly cheaply made
Latest deal: Bed Lounge classic
LinenSpa Shredded Foam Reading Pillow
As the number one best seller you have to wonder what's so special. This is a similar shape to the poodle pillow but it's made with shredded memory foam instead which gives it a much firmer and more cradling support. The shredded foam allows for better ventilation than the solid latex version which stops your back getting hot or sweaty. It has a carry handle and is a suitable 18" high so it works for most adults. The cover is soft and plush and while it's not washable it can be spot cleaned. The foam doesn't absorb smells as easily as fluff too. It has a 3-year warranty and is free standing so you can also use it on the floor like the Poodle Pillow. It's not as heavy as the Bed Lounge so it's easier to move about.
Read more
Features:
– 100% Viscoelastic Shredded Foam
– Plush Cover
– Carry Handle
– High back
It comes in a nice neutral color
shredded foam returns to shape even after being sat on
It arrives flat so you have to let it air out for a bit and plump up
Latest deal: LinenSpa Shredded Foam Reading Pillow
Brentwood Home Pismo Therapeutic Latex Foam Wedge Pillow
While not as expensive as the Bed Lounge this is a firmer version of the Lavish Home reading wedge. It's actually designed for GERD use but it can be flipped up to use as a reading pillow. It's covered in a soft knit fabric which is removable and washable. It comes in three sizes so you can choose how high you want to sleep or how far back you wish to lean while reading. The design is long enough that it supports most of the back while sitting up (24"). You can also find a more expensive version that has a gel layer and memory foam base if you want a slightly softer pillow that cools. It can also be used to elevate feet and is a firm slope.
Unlike most foam pillows this has no gassing off
It's very firm to provide suppor
The cover feels plushy and comfortable
The cover has a tendency to shrink when washing 
Latest deal: Brentwood Home Pismo Therapeutic Latex Foam Wedge Pillow
Leewadee Foldout Triangle Thai-Cushion
Leewadee knows what's up when it comes to pillows for reading in bed. They have just the right type of product for your consideration that will not only deliver on a comfortable reading and resting experience, but also fit accordingly with the style you have going on in your room. This is enabled, of course, through the wide variety of designs and color options you have available to you.
Read more
Some of these are black, orange, brown, grey, red/green and blue/red with intricate design patterns to name a few. The natural plant material used allows for a comfortable and breathable experience, preventing sweat buildup. It also acts as a folding lazy sofa chair for your bedroom or living room. The triangular wedge cushions are made by hand for that premium feel. It gives a very sustainable and nice vibe. The build quality is also great, and you will absolutely love what you get for the price.
Multiple design and color options
Could be more comfortable
Latest deal: Leewadee Foldout Triangle Thai-Cushion
How do I use a reading pillow?
In order to understand how to properly use a reading pillow, we need to first learn the importance of reading and resting. Reading allows us to vastly increase our knowledge, may it be about how to write a fictional piece of art or gathering knowledge about real worldly topics. Reading is known to stimulate our brains which helps in keeping it healthy and functional. It also helps with reducing stress and improving our vocabulary. Who doesn't want to learn new words every day? The more the merrier! We can also aid our analytical skills and help with memory improvement by adopting the hobby.
The second great factor is rest. We need to be well rested while we read. Constant reading while keeping our head at a fixed angle without support can put unnecessary strain on our shoulders and spine. This may not feel like much in the start, but with time will start to build up and cause major issues later on in life. In order to avoid this, we need a proper pillow, one that is made for reading in bed. And there are many that we have reviewed for you today, but it is also crucial to understand how to effectively use them to the best of our interests.
You can prop the reading in bed pillow against the bed wall which allows for a good support from the back. Something solid will do the trick and save you the annoyance of constant slipping of the pillow. Reading pillows have a handle up top as well which enable you to quickly adjust their position or move them entirely with minimal to almost no effort at all. Our goal is to provide as much comfort while reading in bed as possible, and that is further made possible via the side arms you can use to rest your arms on. They also have a pocket where you can store your books or smartphone for convenience.
A reading pillow has good stuffing inside, sometimes made from memory foam but may also have normal foam inside. These pillows come with varying degree of firmness, but you can adjust it according to your use as well just by removing some of the foam if it is too stiff or adding some if it has a lot of give. Keep adjusting until you find the right comfort to firmness ratio. Some pillows for reading in bed feature adjustable angles as well which help in providing good neck support at different angles which can allow some neck movement and keep the stress away. Some even have headrests installed.
All in all, it is important to have a proper know-how when it comes to the correct usage of a reading pillow. If done correctly, a reading-in-bed pillow can prove to be an amazing experience, alleviating stress and adding joy to the amazing hobby of reading.
How do I clean the pillow?
One of the most frequently asked question is, "How to clean a backrest pillow?", and we have the answer right here for you. People also ask if it is hard to do, and we must admit it can be a little complicated in the beginning. But with all the right protocols, you will have a fresh backrest pillow in no time. It will feel just like the day you bought it and the best part is that it's not even that hard to do. So, without wasting anymore time, let's take a closer look and explore how to clean a backrest pillow.
Every backrest pillow is shipped with instructions for maintenance. Read them carefully as every pillow has its own set that need to be understood clearly before attempting anything. The more that you know exactly what to do, the longer it will last you. And who doesn't want their backrest pillow to last a long time before feeling the need to change? The next thing to consider is to make sure you always use a mild detergent as a harsh one can change the chemical composition of the surface and it may not feel as plush or comfortable afterwards. So, a soft and light detergent is the way to go.
A lot of people think of using bleach which is a major no because not only will it ruin the feel of the pillow but may also deform it and destroy the color. No one wants a shrunk, weird looking pillow that doesn't feel good. So, bleach is a no go. Another crucial aspect is the use of warm water. Not too hot as it can be a burn hazard for you as well as it may negatively affect the pillow. Warm water allows the dirt to become loose quicker and come off easily. It does all of this while retaining the feel and texture of the pillow, thereby conserving the plush and soft experience it has always had. Temperature of water may vary from pillow to pillow, so read the instructions carefully.
Start to slowly work the detergent in, in circular motion so it does not change the direction of the threads. Also make sure to work the detergent in quick and don't overdo it. Once you are satisfied with the result, start washing the pillow under gentle pressure of warm water and allow it to soak well. Once that it done, let it dry and you will have a fresh smelling and clean backrest pillow.
One of the most important questions when it comes to cleaning backrest pillows is how often should you clean the pillow? You should clean your pillow when it starts to smell. You will also notice increase in the weight of the pillow which is also a sign that you need to clean it.
On average, you should clean your pillow after every 3 to 6 months. If you follow all the protocols provided above, your pillow will stay clean and retain all the plushness for a long time.
Are the pillows available in different sizes?
Backrest pillows are available in a wide variety of sizes, all the way from baby to king size. Yes, you can actually buy back support pillows for your baby too. The standard pillow size measures 20". This means you can put one pillow of this size on a twin bed, 2 on a queen size bed and 3 across a king size bed.
Then we have queen size backrest pillow that will measure 20" x30. This means 2 queen sized backrest pillows will fit perfectly on a queen-sized bed. Both the queen and standard sized pillows can use a standard pillowcase. A queen-sized pillow for backrest is what a lot of people use but it is always better to have more surface area for your back. And that is where the king size back rest pillow comes in.
The king size measures 20" x36 which is quite a large size. This will accommodate your back easily and give you sufficient room to move around and adjust to the position that suits you best. A pair of king size backrest pillows will fit perfectly on a king size bed and will use king size pillowcases.
These are the sizes available to you.
What is the best pillow for reading in bed?
Orthopedic pillows play a vital role in making up for a good pillow for reading in bed. An orthopedic pillow has memory foam that conforms to the shape of your back and provides great plushness along with back and neck support. Back support is very important as it helps with relieving shoulder and spine stress and injuries. Orthopedic pillows for backrest also have a certain level of firmness that will keep your posture upright and help with keeping a straight back when you wake up. Doctor's recommend orthopedic pillows because they can be very therapeutic and can enhance your reading experience by nailing a few things when it comes to comfort and support.
Another great company for good back rest pillows is Brentwood. We looked at a few products from them today as well. They have a good backrest pillow that offers side pockets for storing objects like TV remotes or smartphones. This is a major factor of convenience and makes so many things easy. Another great feature is the handle at the top of the pillow. This makes it super easy for you to carry your pillow around and set up the way you want it. If convenience is your way to go then this is a nice option for you to consider.
Lastly, a backrest pillow should be comfortable and plush. These 2 things play an important role in determining how long you can stay on a backrest pillow and read, before feeling the need to get up and walk. A reading in bed pillow must provide a comforting experience and keep your neck well-rested throughout the reading session. If you find a pillow that does this, it might be the move.
These are the things you need to look for when looking for the best pillow for reading in bed.
Things to look for in a reading pillow:
The main things to look for when buying a reading pillow are quality, comfort, convenience and firmness. A good quality reading pillow will naturally last you a long time without breaking or needing maintenance. It will also clean easily and will not leave stain afterwards. A well-built pillow can make so many things easier.
Next is comfort. Comfort and back support is something much needed for a pillow. Not only does it provide a plush and comfortable resting experience but also helps with providing appropriate support to your neck and spine. This reduces the stress on shoulders and aids in enhancing the reading experience.
Convenience covers things like a top handle and side pockets. A top handle can improve portability and also make it easy to carry and prop the pillow against a surface. Side pockets in the arm rests can help store items like TV remotes or smartphones or even your favorite book. Another great convenience feature is a cup holder that some of the reading pillows have in the arm rests. It's a simple yet extremely useful and a genius idea.
Firmness is something all the orthopedic doctors recommend. It helps with keeping your spine upright and straight. It improves your walking posture as well and you wake up with no sore shoulders or neck pains. You can obviously control the level of firmness in your reading pillow by removing or adding some of the stuffing. This is a fairly important feature to have.
The inner material for a reading pillow is made from either memory foam or normal foam. It could be plant based as well which helps the environment and reduces pollution. The pillow with shredded memory foam filling conforms to the shape of your body and provides great support. It helps sooth all the muscle aches you may be experiencing and is definitely a material to look for, in reading pillows.
Sometimes reading pillows are filled with microfiber/polyester fiber as well. It is also called fiber fill. It is a synthetic material which is inexpensive and does the job well done as well. So, if you are on a budget, you can consider fiber fill.
The outer material fabric of a reading pillow can be made from a velvet-like material that adds to the plushness as it receives your head every time you lay down on it. You can also find leather as the outer material which screams class, or you can go with a fabric thread like design that is your traditional finish normally found on pillows.
There are different styles when it comes to reading pillows. Some have modular parts that you can use to prop on different ways to change your sitting angle, while others come attached with a head rest. Some have arm rests while others have side extensions that act in a similar way. Some even have V-shape that help people who have snoring problems or sleep on their stomachs.
Conclusion
It's pretty tough to decide which is the best pillow for reading in bed because the two designs are so obviously different. If you're looking for a GERD pillow anyway go ahead and get one of the wedges. The Brentwood Home design is much more comfortable and better for sleeping on, plus you have the optional gel and memory foam if you want it softer.As an upright pillow, it's clear why the LinenSpa beats out the Poodle pillow because the foam and size provide much better support.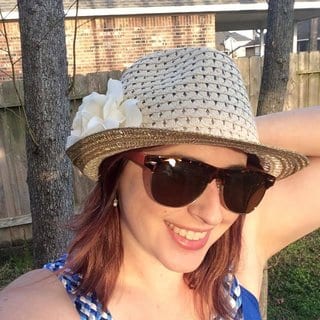 Head of Content at Sleepedia
ABOUT
Lauren is Sleepedia's Head of Content and is a certified sleep therapist who loves her sleep. Lauren helps people to get back to those deep, dream-filled nights they once had by helping to identify problems with their routine and sleep setup. Whether it's a mattress or pillow, Lauren researches the best products in the industry to provide you with an in-depth review of everything you need to know to encourage your buying decision.