Best Mattress Toppers For Full Bed [Review] in 2021
Last Updated on December 8, 2020
written by sleep expert Lauren Hall
See full list of products
Find the products quick - here are the review winners
Mattresses play an important role in determining the comfort you can get in your bed. From having a good night's sleep to lazing away and binge-watching your favorite show while snuggling with your partner, your bed must be topped with a thick, contouring, and temperature-neutral mattress. But like any other item of use in the house, mattresses also wear down throughout use. Mattresses lose their firmness and contouring ability that results in sore backs and necks in the morning. Many times, mattresses wear out so evidently that you can see bumps and depressions on the surface.
Read more
Whenever such a situation arrives and you don't want to spend a lot on changing the mattress altogether, you have the option to top it up with a mattress topper— it is what its name implies i.e. a topper for the mattress. It is a layer of anything between one to three inches made of polyfoam, memory foam, wool, feathers, etc. and used for giving back the contouring and supporting attributes to the bedding that have been lost due to an aging mattress.  Good quality mattress toppers are also breathable and ensure temperature neutral sleeping environment.
In fact, in some cases, mattress toppers show better cool-to-sleep, contouring, and supporting characteristics than a regular mattress. A couple of years ago, mattress toppers were mostly available for single beds only. However, that's not the case anymore. You can now find a quality mattress topper for full bed as well. If you want to have a cost-effective yet functional solution of your full-size worn-out mattress, then read on. We are going to review five of the best mattress toppers for full bed here. Furthermore, we will also answer the pertaining questions regarding mattress toppers and some of the buying considerations.
We've spent the time researching so you don't have to:
Our Top 5 Mattress Topper for Full Bed
Milemont Mattress Topper Full
Are you waking up in the middle of a night while soaking wet in sweat? Or the surface of your bed now feels stiffer making it difficult for you to fall asleep? All such instances are signs that your mattress is nearing its service life or has gone beyond. You need to replace or at least rejuvenate the mattress to get back your comfort. If you face this situation while being on a budget, then here is a suggestion for you: Get Milemont Mattress Topper. It is a 2-inch gel-infused memory foam with a price tag that is pretty affordable even among other toppers, let alone the full bed mattresses. Milemont Mattress Topper has got both those basic properties right that you look for in any topper product.
Read more
First, it is neither too hard nor too soft and offers perfect contouring to your body outline.  Secondly, it is infused with gel beads that make sure the heat dissipated from your body is flushed out instead of retaining in the same space to keep your body warm. Whether you are sleeping hot or waking up sore due to your old bedding, Milemont mattress topper will take care of these sleeping inconveniences.  Milemont is also offering this mattress topper in twin and queen sizes. In short, Milemont is catering to all segments of the market and that too with quite a reasonable price points. This is also the reason why Milemont 2-inch Mattress Topper enjoys the tag of "#1 Best Seller" on Amazon.
A great bang for the buck
Suitable for all types of mattresses on full beds
Gel bead integration ensures you can sleep cool
Memory foam ensures spine support and evenly distribution of body weight
The exterior could have a better quality
Latest deal: Milemont Mattress Topper Full
SUFUEE Mattress Topper Full Down Alternative
SUFUEE has packed a solid punch with this mattress topper option for full-size beds. This product is not a just mattress topper but a comforter as well. It is a combination of two pieces: 2-inch down-alternative padding that is covered in the soft microfiber lining. And there are pretty solid reasons why the manufacturer has devised its mattress topper this way. If your mattress has disturbed your sleep then a SUFUEE mattress topper is a complete solution for it. When you put a plush and hypoallergenic down-alternative topped with a soft fiber cover on your mattress, it feels like you are using a new bed altogether.
Read more
Apart from its impressive allergy-free down-alternative filling that produces no sneaky noises when you move on the bed, the cover also makes this SUFUEE product stand apart. This comforter is made of microfiber shell and is completely hypoallergenic. The soft fiber cover is washable and dryer safe so that you can maintain the hygiene of your sleeping space in the best possible manner.
The thickness of this topper is also pretty well-set. 2 inches are not thick enough to mess up the contouring and comforting characteristics of the down-alternative filling but offer the plush and cloud-like comfort you want in your bed. SUFUEE mattress topper is worth your money because it is one of the dependable products available in this niche. It comes with a 5-year service warranty and a 30-day money-back guarantee. The seal of "Amazon's Choice" further substantiate its quality and reliability. LUCID Mattress Topper for full bed is a better and inexpensive alternative of an expensive full-fledged mattress.
Ideal for mattresses that are too stiff
Features well-fitted washable cover
Suitable for all sleeping positions
4 elastic bands ensure perfect fitting on any full-size mattress
A bit heavy on the pocket
Latest deal: SUFUEE Mattress Topper Full Down Alternative
Royal Plush Mattress Topper
A tufted lining always offers a better comfort quotient. Tufted upholstery ensures contouring and pressure support that one experiences in the form of better comfort. If you are looking for a mattress topper but also want it to have a tufted texture, then the one offered by Royal Hotel should be your pick. It is important to mention here that Royal Plush Mattress Topper doesn't have the closely packed tufting that you see on the back of the chairs and sofas. The manufacturer has made sure that the tufting patterns have enough spacing so that it doesn't feel like a bumpy surface. The 2-inch mattress topper features down-alternative filling.  This doesn't just keep its price in check but also ensures comfort for all those people who are allergic to feather fillings.
Read more
Moreover, the cover of this mattress is also made of microfiber shell. It is soft to touch, plush to feel and easy to maintain. It is machine washable and safe to dry-clean. If you want to ensure your mattress topper always look all brand new, wash its cover from time to time.  We also like the Royal Hotel Mattress Topper because it features highly elastic anchor bands given on all four sides. They let you fasten the topper on a fixed position to mattresses and platforms of up to 17 inches of thickness. If you like your bedding more fluffy and plush then you can opt for a 3-inch variant of this same mattress topper.  Royal Plush Mattress Topper also enjoys the prestigious tag of "Amazon's Choice" in the category "mattress topper with straps".
Down-alternative construction to ensure hypoallergenic attributes
Easy-to-wash microfiber shell cover to ensure ideal hygiene
Suitable for mattresses of all thicknesses
A great bang for the buck
Don't have good heat dissipation properties
Latest deal: Royal Plush Mattress Topper
Best Price Mattress Full Mattress Topper
Many times a mattress loses some degrees of its contouring characteristic just after a couple of months. This usually happens when you invest in some low-quality products without doing any research and comparing and reviewing different products. If you have done such a mistake and are now looking to rectify it without straining your budget, then get this Best Price Mattress Topper for your full bed. This memory topper is one of the most inexpensive models on the block. And its low price point has no bearing on its quality and comfort. This 1.5-inch mattress topper is made of CertiPUR-US certified memory foam. This means it is free from any formaldehyde, mercury and lead residues, making its use completely failsafe for your wellbeing.
Read more
Many times users also commit a mistake of buying a mattress without looking into its "breathability" and cooling characteristics. If that's the case, then this budget mattress topper for full bed will come in useful. Its open-cell design is meant for optimizing airflow thus allowing body heat to flow downward instead of building up on the top. This means you can get the cool-to-sleep experience on this topper even in the absence of gel infusion in the memory foam. The Best Price Mattress Topper for full bed is not infused with gel beads, but that doesn't mean the manufacturer hasn't complemented memory foam with anything else. Here, you get a unique bamboo charcoal infusion that acts as a natural sanitizer. This modification prevents bacterial growth within the topper and makes sure it doesn't give off bad odor after continuous use. The charcoal is also considered good to curb the negative effects of humidity. In short, the bamboo charcoal treatment guarantees a better sleep environment.
The best budget mattress topper on the block
Open-cell construction makes its design breathable
Bamboo charcoal infusion for natural sanitization
Some users may find its thickness insufficient
Latest deal: Best Price Mattress Full Mattress Topper
Weekenders 2 INCH Memory Form
If you have made a heavy investment on your mattress and now want to ensure that it lasts long, get a Weekender Memory Foam Mattress Topper. But that's not all about the use of Weekender Topper. You can also have it to soften the surface of a rigid mattress or to beat a new life in an old mattress. Weekender memory foam toppers are ideal on all different new and old mattresses because it features suitable thickness, certified material, and a well-thought-out construction.  Let's start with its thickness. The 2-inch toppers and pads are generally considered ideal for all sorts of bedding.
Read more
They strike a perfect balance between the plush and firm support that you look in a mattress. Moreover, its material is CertiPUR-US certified so there won't be any invisible fumes of harmful synthetic chemicals. Lastly, its design ensures you don't sleep hot. The open-cell design offers plenty of microchannels in between the memory foam filling that offers effective heat sink for the body. It is important to mention here that Weekender 2-inch Mattress Topper also offers the body contouring and support that you look in any high-quality mattress. It aligns with the spinal column and evenly distributes body weight if you are not sleeping on your back. Lastly, it is a reliable product that will continue to serve you for years. It comes with a 3-year warranty for the manufacturer defects.
Perfect on all full bed mattresses
Contours body and supports weight as you sleep
A breathable construction
Memory foam is not infused with gel
Latest deal: Weekenders 2 INCH Memory Form
Best Mattress Toppers For Full Bed Buyers Guide
Before we move on to discuss the factors to consider while buying a mattress topper for full bed or the pertaining FAQs, it is really important to address a crucial confusion i.e. the difference between mattress toppers and mattress pads. The two terms are used interchangeably to such an extent that even sellers sometimes don't know if the product they are offering is a topper or a pad.
Purpose:  First of all we should differentiate between the basic purposes of these two. Mattress toppers are primarily designed to improve on the comfort quotient of an existing mattress. That's the reason why their construction is pretty similar to that of a mattress (with lesser thickness). On the other hand, the primary function of a mattress pad is to protect the mattress from stains and contaminants.
Material: Since the primary purpose of toppers and pads are different, therefore their materials also vary. Mattress toppers are largely made of latex, memory foam, wool and fiber (in the form of down-alternative). If you notice, all these materials are also used in the making of mattresses. Mattress pads are generally made of fiber, cotton, and polyester. They are also less thick than a high-quality topper.
Durability: The mattress toppers made of latex and memory foam are durable and can offer utility to up to 10 years. Mattress pads are mostly used for insulation, therefore, they often wear down in lesser time. Their filling materials are not able to withstand extensive use.
Price: Mattress toppers are thicker, durable and offer the features of a full-fledged mattress. So, it is only natural that they are generally expensive than pads. Nonetheless, you can find both toppers with lower and pads with higher price points.
Factors to Consider Before Buying a Mattress Topper for Full Bed
There are some properties and features that determine how good a mattress topper is. So, whenever you go shopping a mattress topper, consider and weigh in these factors. Practicing this diligence is more important when you are buying it for a full-size bed and spending a considerable amount of money. Moreover, you also need to make sure that the toppers you are buying also get the approval of the person sleeping next to you.
Let's have a look at the factors that you should consider to make a perfect purchase of a mattress topper for full bed.
Material
The first and foremost factor to consider in a mattress topper is its material. The material of a topper dictates its prices, the comfort it offers and the durability its exhibits. Let's have a quick rundown of what materials to choose in which scenarios. If you are looking to make your full bed better for its supporting and contouring action, then latex and memory foam toppers are suitable. However, if plush and cloud-like feel is your demand, then down-alternative options (made of artificial feather and wool) are the best.
There is another thing to look at while picking the material of the topper i.e. its breathability and temperature neutrality. Primarily, down-alternative have better breathability and thus ensure you sleep cool. A pure memory foam topper, on the other hand, is not that great with this characteristic. It has a closely packed construction that doesn't let air pass through the topper and hence heat doesn't dissipate from the top to bottom.
However, memory foam toppers now also come with gel infusion (e.g. our top pick) that makes sure you get firm support and cool-to-sleep attributes in a single option. We would also recommend you to go with a mattress topper that scores well on both fronts.
Thickness
Once you settle on the material of the topper, determine what thickness is needed on your full-size bed. There are some general rules that you need to follow in this regard. If you are looking to tone down the firmness of your mattress, then pick thick toppers (3-4 inches). If you want to do up your old mattress then 2-inch toppers will suffice. You can also opt for 1.5-inch mattress toppers in instances where you just need to give a little bit of lift to your existing mattress.
Similarly, if you want to add more plush and cloud-like softness to your bed, then thick mattress toppers made of non-foam materials will come in handy.
Tip:  If not sure what thickness will turn out great, pick a 2-inch mattress topper. Their moderate thickness goes well with every mattress and also offers body support and contouring without feeling too firm.
Localized Motion
Now, this is the point that the majority of buyers don't factor in while buying a mattress topper for full beds. Localized motion actually means that the movement on one side of the topper doesn't ripple down to the other side. In other words, the shuffling and reshuffling of one person on a full-size bed don't disturb the other person. This localized motion, which is also called motion isolation, varies with the material. Latex and memory foam toppers offer better motion isolation in comparison to down-alternative options. If one of you is a restive sleeper and the other is fed up with this tendency, then always opt for memory foam toppers for your full-size bed.
However, if the movement of one person is not bothering the other, then you don't have to be thoughtful of localization motion.
Allergies
This is yet another area that many buyers don't pay any attention too.  If you are sensitive to respiratory allergies, then you must factor in this issue while buying a mattress topper. There are some materials and manufacturing processes of mattress toppers that aggravate the symptoms of those allergic individuals. Toppers made of latex and feathers have been observed to trigger allergies in some people. Memory foam and wool excel well in this regard. If you have a history of allergic reactions to new materials and products, then it will be better if you stick to memory foam toppers.
Off-Gassing
Off-gassing is an issue that you must factor in to ensure the wellbeing of those who are going to sleep on the mattress topper you are going to buy. Every newly manufactured product emits some chemical fumes over a long period (weeks to months) and this is called off-gassing. It is considered dangerous because one can't tell if they are breathing in chemical-infested air.
There is no way to get rid of off-gassing altogether. However, you can ensure it doesn't give off the most toxic chemicals. For that matter, always buy mattresses and mattresses toppers that are CertiPUR-US certified. This certification makes sure that materials like formaldehyde, lead, and mercury are not used in the manufacturing of the given product.
Frequently Asked Questions
What Is the Best Mattress Topper for Sore Back?
If you are waking up with stiff and sore back then get a memory foam mattress topper for your bed. It offers the best relieve to pressure on different points on the body by conforming to its shape.
What Is the Best Mattress Topper for Hot Sleepers?
There is no one type of mattress topper that is considered suitable for hot sleepers. Plush down-alternative toppers are quite good with their breathability and hence offer better heat sink to people who sleep hot. Similarly, memory foam toppers with gel infusion can also ensure temperature neutral experience. However, a pure foam topper may not offer the required temperature comfort to hot sleepers.
Can Mattress Topper Replace a Mattress?
No, mattress toppers are not a substitute for mattresses. You can't put mattress topper directly on the bed because it will not offer the features that a manufacturer promises. However, you can use thick mattress toppers as a makeshift mattress in RVs and on floors. But keep in mind that a topper is not a permanent solution and replacement of a full-fledged mattress.
Is a Thicker Topper a Better One?
No, thickness alone is not a defining characteristic of a mattress topper. You may not get the required utility from a 4-inch feather topper that is offered by a 2-inch memory foam unit.
We hope that this informative discussion and product reviews will help you in purchasing the right mattress topper for your full-size bed.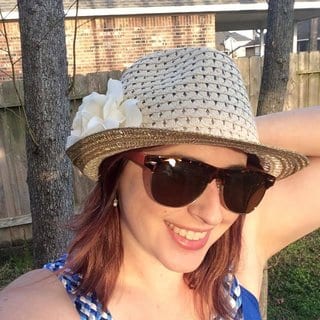 Head of Content at Sleepedia
ABOUT
Lauren is Sleepedia's Head of Content and is a certified sleep therapist who loves her sleep. Lauren helps people to get back to those deep, dream-filled nights they once had by helping to identify problems with their routine and sleep setup. Whether it's a mattress or pillow, Lauren researches the best products in the industry to provide you with an in-depth review of everything you need to know to encourage your buying decision.