Best Mattress Protector For Hot Sleepers [Review] in 2021
Last Updated on October 15, 2021
written by sleep expert Lauren Hall
See full list of products
Find the products quick - here are the review winners
Have you been struggling with getting too hot while you sleep and having all your windows doesn't seem to help? Are you looking to find a mattress protector to protect your bed from all the sweat and keep you cool throughout the night?
Well, fear not, my friend, I'm here to help!
I have hunted down the very best mattress protectors and tips and tricks for keeping cool during the night for all my hot sleepers out there. I have looked at more mattress protectors that I can count and devised a guide of my top 5, so you don't have to worry about what's good and what's not.
A quality mattress doesn't come cheap, which is why it makes sense for you to protect your mattress by investing in a quality mattress protector. It's not just great for protecting mattresses, but it comes with some hidden benefits, like improving ventilation to boost your sleeping experience.
But it doesn't stop there!
Recurring trends I have noticed when researching mattress protectors is that not only do they protect your mattress against stains and spills but create a protective barrier between the mattress and your skin.  A mattress protector is a NEED if you're a hot sleeper. 
Here's a cool tip: Investing in a quality mattress protector will take years off your mattress and restore it to its former glory. It benefits those with allergies and hot sleepers the most as it ventilates the airflow while providing a protective barrier from bacteria created by sweat. 
But enough of me rambling you won't want to miss my top pick; it will make your mattress feel brand new. 
I've spent the time researching so you don't have to
Our Top 5 Best Mattress Protectors for Hot Sleepers
SafeRest Premium Hypoallergenic Waterproof Mattress Protector
Best waterproof mattress protectors 
Coming in hot with over a hundred thousand glowing reviews is SafeRest, hot sleepers; this is the mattress protector of your dreams.
SafeRest is best known for its premium protection against dust mites, fluids, urine, perspiration, allergens, and keeping you cool during the night. It will safeguard your mattress from all foul odors caused by sweat, spillages, and stains. 
Their unique design blocks fluids from reaching the mattress and has advanced airflow, which allows the mattress to breathe while preventing heat buildup. It offers peace of mind for hot sleepers, so you can rest assured that you're sleeping in a sterile environment! 
Suffer from dust mites? This mattress has you covered for that too!
Dust mites are a constant problem for Americans who suffer from allergy and asthma triggers. SafeRest reduces dust mite exposure to the mattress, which improves the sleep environment by reducing allergy triggers and offering better air quality.
But here's the kicker: 
SafeRests mattress protectors are designed and will fit a range of mattresses, including memory foam, latex, and innerspring, so that you can order with complete confidence. All you need to do is a wash before use, and you're good to go. 
Overall, this mattress works excellently in improving airflow, protecting your mattress against dust mites, bacteria, sweat, and massively improving sleep quality. With over 100'000 glowing reviews, you can't beat it. 
Protects against dust-mites
Improves airflow and air quality
Prevents heat buildup and protects the mattress against sweat and spillages
Can fit a wide range of mattresses
Latest Deal: SafeRest Hypoallergenic Waterproof Mattress Protector
Cosy House Luxury Bamboo Mattress Protector
Want your mattress to feel as good as new for years of use? Well, this hypoallergenic bamboo protector by Cosy House is up to the bill.
It features a stretchable fabric that stays silent in place throughout the night. It is also highly breathable and promotes superior air circulation to keep you cool throughout the night– ideal for hot sleepers. It is the best cooling mattress you will find. 
This bad boy will protect your mattress against any liquid spills, urine, stains, and sweat using their special double-layer technology to absorb all the mess effectively without it seeping through to the mattress.
This bamboo protective cover also provides the best shield against allergens, dust mites, and bacteria since it naturally wicks away moisture and prevents germs from spreading in your bed. 
Want to hear the best part?
It is completely environmentally sustainable as it is made using bamboo, a plentiful and renewable eco-conscious material. This protector even gets bonus points for the environmentally friendly manufacturing process.
Bamboo is also naturally anti-bacterial, so no harmful chemicals need to be added to prevent bacteria growth. Cosy House is such an excellent option if you're looking for a more sustainable mattress protectors that still does the job like a dream.
Ultra-soft mattress protection
Improves airflow and wicks away sweat
Doesn't offer the best protection against spills
Latest deal: Cosy House Luxury Bamboo Mattress Protector
HOSPITOLOGY PRODUCTS Sleep Defense System
best bed bug mattress protector
Upgrade your sleep experience with this zipped mattress protector by Hospitology Products. They are part of the Sleep Defense System and will not only shield your mattress from spills, bed-wetting, bed bugs, allergens, and dust mites but protects all 6 sides of the mattress. 
Their waterproof mattress helps ease respiratory systems and asthma by preventing bacteria, allergens, and dust mites from reaching you when you're sleeping in bed.
Plus, the mattress protector's ultra-low profile is perfect for minimalists; it is fully zippered on three sides and features an Allergy Blocker that prevents allergens from exiting through the zipper.
But that's not all:
There is even a Zipper Lock and Bug Flap that ensures Hospitology Products remains bedbug-proof throughout the life of your mattress. As for breathability for my hot sleepers, it features a breathable waterproof membrane that won't trap any heat while you sleep.
Here's a fun fact: improving your sleep will not only prolong your life but will improve your day-to-day performance and overall mood. Give this one a try, and I can guarantee you will notice the difference!
Ultra-low-profile mattress cover
100% waterproof barrier on all sides
Extra-soft polyester knit fabric
Latest Deal: HOSPITOLOGY PRODUCTS Sleep Defense System
Utopia Waterproof Mattress Protector
If you're looking for a mattress with TPU backing that will protect all six sides of your mattress, Utopia is the answer to all your prayers. It is ideal for protecting against sweat and other bodily fluids while being completely waterproof and breathable.
I especially love this mattress for its cooling effects and an overall improvement in sleep quality. Plus, the TPU backing also ensures complete silence when you move during the night without having to compromise comfort.
The zippered mattress encasements enclose the mattress entirely, acting like a protective layer over the top, bottom, and mattress sides. It seals tightly without leaving a gap at the zipper end for complete protection.
Say goodbye to bed bites for years!
These sneaky little suckers are such a pain in the ass (literally), but lucky for you; Utopia is one of the best for solving this issue. By providing a protective layer between your skin and the mattress, you can say goodbye to these pesky bugs.
Bed bugs thrive in a moist, warm environment, so if you have allergies or a hot sleeper, you need to try this protector. It will improve the airflow and prevent heat build-up while providing a barrier between you and the mattress.
This bed protector is honestly unbeatable. 
Waterproof and breathable, circulates airflow well
Ideal for hot sleepers or those with allergies
Protects all six sides of the mattress without gaps
Protects against bed bugs for years
Latest deal: Utopia Waterproof Mattress Protector
Qutool Cooling Mattress Protector
Best cooling mattress protector
Now, I shouldn't have made you wait this long for this product, but it is an absolute gem for the pricepoint. This bamboo protector by Qutool will not only protect your mattresses against spillages but also allows for natural air currents to keep you cool.
Qutool was designed to safeguard from dust, perspiration, urine, sweat, and fluids while having cooling effects to circulate airflow around the mattress efficiently. It gets bonus points for protecting expensive mattresses and keeping them in pristine condition!
The comfortable and breathable bamboo and cotton protector is ultrasoft and has sweat and moisture-wicking functions that make Qutool durable. Bamboo mattress protectors are often softer and cooler than any other and will keep you cool in the summer and warm in the winter months.
I can't wait to tell you the best bit!
Qutool is also wholly silent; thanks to its super soft and smooth texture, it won't make irritating plastic sounds like other mattress protectors when you move.
But that's not all: it is also free from Vinyl, PVC, Phthalate, and it is also completely hypoallergenic, so if you're a hot sleeper that also suffers from allergies, then this may solve all your problems! All you need to do is machine wash before use, and you're good to go.
In terms of quality mattress protectors, Qutool will tick all the boxes.
Sustainable breathable bamboo 
Hypoallergenic and circulates airflow
Keep you cool during the summer month
Quiet with no crinkling under the sheets
Latest deal: Qutool Cooling Mattress Protector
Best Mattress Protector for Hot Sleepers Buyers Guide
Before you go out and buy the first mattress protector that you come across, there are some crucial factors to consider. Such as the air circulation, its ability to wick away moisture and protect against stains, bed bugs, and spillages.
If you're a hot sleeper it is important to not only find a mattress that allows for quality airflow and prevents heat buildup. This will significantly change your sleep quality as it will keep you cooler throughout the night and allow you to reach those deeper sleep stages.
If you find yourself waking up sweating through the sheets or struggling to fall asleep as a result of being too hot then a mattress protector or mattress pad may make a massive difference.
Mattress protectors and mattress pads don't just keep you cool throughout the night they are also extremely beneficial for those who suffer from bed bites, allergies, or even if your child is going through a bedwetting phase.
Bodily fluids not only make a mattress less clean, but the liquids also wear down materials in your mattress, which shortens its lifespan. That's where a mattress protector comes into the picture.
But no need to panic, I'm here to break it all down so you can get back to an excellent night's sleep you deserve.
Key thing's to look for in a mattress pad or mattress protectors:
Comfort
An essential thing in our eyes is the comfort afforded by the protector because ideally, you want to be sleeping comfortably and remain cool with confidence that it will protect the mattress at the same time.
Bamboo protectors are brilliant as they are super soft, have natural antibacterial properties, and effectively circulate airflow to keep you cool.
Temperature Control
The best cooling mattress protector, mattress topper, and mattress pad are generally made from wool, bamboo, or latex and are best for regulating people's sleeping temperature.
A cotton protector is lightweight and can be easily washed, but if you add fabrics that regulate temperature and moisture-wicking, you get a cooler and more comfortable sleep.
Bamboo materials make the best cooling mattress protector as they allow for sufficient airflow; they also prevent heat buildup and keep your body cool.
This is vital for people who naturally sleep hot, along with anyone who has an underlying condition or takes medication that causes night sweats and overheating. Most mattress protectors do come with moisture-resistant properties.
In order to fall into a deep sleep, our body needs to drop one degree in temperature; therefore, keeping you cool during the night is crucial. You fall asleep quicker in a cold environment than in a warm one.
For Allergy Sufferers
If you're suffering from allergies, you'll want to get something that fully encases the mattress and has anti-allergen features. The full encasement protects your mattress from bed bugs, as it creates a barrier between bed bugs and the mattress.
That's why hypoallergenic materials are often found in mattress protectors, so even if you don't have any year-round allergy problems, you should consider getting a hypoallergenic mattress protector. These are known to be beneficial for people with breathing ailments, asthma, and COPD.
Liquids and Spills
If you tend to sweat a lot, or if you're looking to protect the mattress from any accidental bedwetting from your child, you should get a mattress protector that has waterproofing properties.
Ideally, you want one made from waterproof fabric, which will wick away moisture and stop leaks and spills from penetrating the mattress.
How to Select the Right Mattress Protector:
Selecting a mattress protector for your mattress isn't rocket science. Just like when you're choosing a mattress, there are several things you must consider when shopping for a mattress protector. You'll have to take into account factors like:
Breathability
Some mattress protectors can trap heat because of their waterproof layers, and if you're someone who tends to sleep in a hot environment, you'll want to look for a cooling mattress protector designed to encourage airflow for better sleep.
Sizing
Most mattress protectors will fit mattresses up to 14-inches to 18-inches, but you must check the specifications if you want a high-profile mattress. Most brands offer protectors for low-profile mattresses, and you may want to get one if you have a thin mattress. So, look for protectors that are made from stretchy material with elastic sides to avoid any bunching.
Allergy Protection
If you're someone who suffers from allergies, you'll want to find a mattress protector specially designed to keep out common allergens out of your bed. That's important if you're allergic to dust mites that can build up in mattresses so, make sure that you buy a hypoallergenic mattress protector, so you're not self-reacting to your protector.
Bed Bug Protection
Mattress protectors are designed to keep out allergens and dust mites, but the only way to securely keep out bed bugs is through mattress encasement. This would mean ensuring that the protector goes all the way around the mattress and can be closed securely. So, if you're concerned about bed bugs, you may want to get a protector that covers your mattress from all 6-sides, so no bed bugs get inside.
Waterproofing
Most mattress protectors are made to be waterproof, but that's not true entirely, as some perform better than others. You may find protectors that claim to be water-resistant, but you need to ensure that the protector is designed to absorb it or repel it completely partially. That's very important if you're buying a mattress protector for a child and don't want them waking up in a puddle every night.
Material Type
A lot of mattress protectors feature a soft top layer along with a waterproof layer underneath it. Natural materials like bamboo and cotton are more absorbent than polyester, so if you want your mattress protector to absorb some liquid instead of repelling it, you may wish to them in natural materials.
There's some form of polyurethane in the waterproof barrier, but most protectors tend to use vinyl, linked to health and environmental issues. If that's a concern for you, then get a mattress protector that is vinyl-free.
Frequently Asked Questions – FAQs
Even though I have tried my best to explain everything about mattress protectors for hot sleepers, I understand that there are still going to be some questions that I haven't answered. I will attempt to do that by highlighting some of the frequently asked questions by individuals, shopping for mattress protectors for hot sleepers.
How to attach a mattress protector to the mattress?
Most mattress protectors can be easily attached to the mattress in two different ways. Most models come with elastic corners that can be stretched around the bed's edges like a fitted sheet. Some protectors have an anchored design that means they must be attached to the bed corners with elastic bands. Some protectors don't have any elastic corners and must be draped on top of the bed's mattress and surface.
Will a mattress protector make the mattress feel softer?
In most cases, a mattress protector will provide little to no feeling or any comfort adjustment. However, there are thicker, quilted protectors that may make the mattress softer.
How should mattress protectors be cleaned?
Most mattress protectors can be machined washed, and even though this may cause them to deteriorate faster, machine washing and tumble drying are the most effective way to sterilize and clean the product. It's also important that you follow care instructions stipulated in the warranty of a mattress protector.
Are mattress protectors suitable for a child's bedding?
Mattress protectors can be an amazing bedding accessory for little kids' bedding. They help to protect the mattress against grit, dirt, and other contaminants that the little ones may bring with them to bed. Waterproof mattress protectors are highly beneficial for children that wet the bed.
Will a mattress protector make the mattress hot while sleeping?
Most mattress protectors don't make the mattress hot or warm during sleep; however, some protectors do provide a somewhat warm sleeping experience. However, cotton mattress protectors have a cooler sleeping experience because cotton is more breathable than rayon or polyester.
How to ensure that my mattress protector will fit the bed?
The size of the mattress protector must always match the size of the mattress. For mattresses that are more than 12 inches thick, it's important to check the protector's pocket depth. Some mattress protectors do provide extra coverage for mattresses that have above-average thicknesses.
Most of the mattress covers I have selected today will fit a range of beds from memory foam, latex to innerspring, so you won't have to worry about it not fitting your bed.
How much will a new mattress protector cost me?
The standard price-point for an average quality mattress protector will be somewhere between the price range of $50 to $60. Other mattress protectors are made from luxury materials, like organic cotton, and they may have higher price-points.
Do mattress protectors come with warranty coverage?
Most mattress protectors in the market do come with warranty coverage, and the average coverage that comes with them lasts for around 10 to 15 years. It's important to note that most manufacturers require owners to wash their mattress protector when it gets soiled, or their warranty will be voided. Apart from that, manufacturers won't warrant some types of damage, like permanent stains from bleach, cosmetics, or food.
Conclusion
You must invest in a mattress protector if you sleep in a hot environment because it's an inexpensive investment that will not only add life to your mattress but will also improve the quality of your sleep.
Even if you think that your mattress is clean and doesn't have dust mites, bacteria, or other allergens, it's still a good idea to get a mattress protector as it ensures that your mattress is safe from any damage. It also makes cleaning your mattress a hell of a lot easier. 
Improving the ventilation of your mattress topper, mattress pad, or protector will keep you cooler throughout the night and improve the quality of sleep you receive.
When we fall asleep, our core body temperature drops a degree, if you feel hot, you may struggle to fall asleep, and this is because your body cannot drop in temperature.
Give one of these a go today, and you will notice the difference!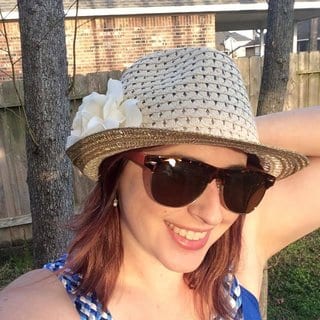 Head of Content at Sleepedia
ABOUT
Lauren is Sleepedia's Head of Content and is a certified sleep therapist who loves her sleep. Lauren helps people to get back to those deep, dream-filled nights they once had by helping to identify problems with their routine and sleep setup. Whether it's a mattress or pillow, Lauren researches the best products in the industry to provide you with an in-depth review of everything you need to know to encourage your buying decision.