Best Feather Beds Mattress Toppers [Review] in 2021
Last Updated on March 16, 2021
written by sleep expert Lauren Hall
See full list of products
Find the products quick - here are the review winners
Looking to soften up a super firm mattress with a feather mattress topper? 
Well, you're in luck; you're at the right place. 
I have spent hours seeping through 48 different feather mattress toppers to devise a guide of the top 5 very best feather mattress toppers available to buy. Feather mattress toppers are still seen as a luxury as they offer maximum comfort.
But they're not always so straightforward to buy; you need to distinguish a good quality feather mattress from a fake, low-quality one without breaking your bank. 
But no need to worry, I'm here to help:
To make things easier, I have done all the research for you; I have hunted down a range of different feather mattress toppers with a range of different thicknesses, firmness, and support. They will add a superior layer of comfort to any mattress. 
Here's a tip: instead of wasting a tonne of money on a whole new mattress, give a feather mattress topper a try, and I can guarantee you can get a few more years out of your mattress– it will have it feeling like new like you're sleeping on a cloud.
Feather mattress toppers are now a luxury anyone can afford; let's get into my top 5 picks! 
We've spent the time researching so you don't have to:
Our Selection of The Best Feather Mattress Toppers
DOWNCOOL Feather Mattress Topper
If you're looking for a feather mattress topper that will scream luxury, then this is it. This feather bed mattress topper uses a double cotton soft flannelette design with high-quality feather down that is both super comfortable and breathable.
The fabric of this feather mattress topper is very soft and breathable; you will feel comfortable and cool when laying it; it is the luxurious comfort you need to sleep peacefully at night.
The filling is extra thick and won't leak any feathers; it is also super supportive and won't shrivel down. You will notice the quality of your sleep massively improve even after the first night.
But that's not all:
This mattress topper is also super safe, children the elderly, and even pregnant ladies can use this topper. DownCool uses a high-quality feather that won't provide an offputting odor and won't go moldy. The hypoallergenic construction will repel dust and allergens too.
Here's the kicker: this mattress topper is machine washable and isn't prone to tearing or caking; it is a very durable design built to last. It will be your perfect companion while you sleep.
Hypoallergenic and pregnant friendly 
Comfortable and breathable
Latest Deal: DOWNCOOL Feather Bed Mattress Topper
The Duck And Goose Co Plush Mattress Topper With Deep Pocket Fitted Skirt
One of the best feather beds on the market is from the D&G – The Duck and Goose Co, who have an embossed mattress topper renowned for being the softest topper on the market, with 1450gsm of premium quality microfiber
.It features an improved pocket depth for extra support and cushioning, allowing you to relax on a cloud of comfort. The beautifully embossed breathable Jacquard fabric and stylish box-quilted design give you a refreshing and restful relaxing experience.
The light breathable fabric allows for effective airflow, so you can enjoy a refreshing and restful experience and stay perfectly cool and comfortable with optimal temperature control.
As if that's not enough:
Their filling emits no unpleasant odors like memory foam versions, so you can fall asleep in a fresh environment and wake up feeling rejuvenated and energized. 
You can now relax on a sumptuously soft cushion that will transform your sleep and allow you to breathe easily. If you're prone to sensitivities then this is the best choice for you, you can kick back and relax in complete luxury in the comfort of your own home! 
Breathable fabric for ultra-comfort
Generously filled for maximum plumpness
Improved comfort and support
Latest Deal: The Duck And Goose Co Plush Mattress Topper
Pacific Coast Luxury Baffle Box Feather Bed
The Luxury Baffled Box Feather toppers by Pacific Coast Feather mattress topper is the ultimate feather topper for any individual looking for a comfortable and relaxing night's rest.
The Resilia feather fill is going to cushion your pressure points gently for a deeply restful sleep. The ingenious 3-D true baffle box construction on the inside keeps all the feathers in place and creates extra room for an exceptional loft.
But here's the best bit:
This mattress topper helps to gently cushion your hips and shoulders, providing you with the sleep and rest that you deserve after a long day. You can sink your tired body into this mattress topper and fall straight off to sleep, less restlessness and more Zzz's. 
Now, you can experience European luxury with an additional layer of soft quilting. The support of springy Resilia feathers will provide extra cushion and support for your hips and shoulders. It's also an amazing and affordable way to refresh your old mattress.
European luxury with the extra layer of soft quilting
Hyperclean resilia feathers
30-night comfort guarantee
Requires some maintenance
Latest Deal: Pacific Coast Luxury Baffle Box Feather Bed
Puredown Premium Goose Down Mattress Pad Bed Topper
This Puredown bed topper has a 100% cotton shell. The top layer consists of 75% White Goose down while the rest is made from White Goose feathers. It is the ideal bed for anyone looking for the best in sleep comfort, back, spine, and neck support.
The double-layered fabric design and double-needle-stitched edging help avoid any potential feather discomfort, while the plush polyester peach skin inner layer supports a smooth surface.
Now:
It's fully machine washable, and the 100% cotton fabric cover provides a soft but supportive feeling. You're guaranteed a great night's sleep with this feather topper as it features soft and silent protection that isn't going to disrupt your sleep throughout the night.
You can take advantage of unbeatable comfort with this mattress topper, which will make it look as if you're sleeping on a cloud with gentle support. It even comes complete with cozy, medium-firm pillows.
100% cotton fabric mattress pad
Medium-firm and cozy pillows
Unsuitable for those who don't like goose down
Latest Deal: Puredown Premium Goose Down Mattress Pad Bed Topper
Allied Essentials Luxe 100% Cotton White Down and Goose Featherbed Mattress Topper
If you're looking for an affordable, machine-washable, high-percentage-down feather mattress topper that is both hypoallergenic and breathable, then you need to try out this one by Allied Essentials.
Treat yourself to a 5-star hotel-style comfort in the comfort of your own home; you will feel like you're living in luxury as you comfortably sink into this ultra-soft topper. You will wake up feeling refreshed, rejuvenated, and ready to take on the day. 
This topper features a dual compartment, turtle top construction with a soft and fluffy down layer on top, and a strong, sturdy feather layer underneath. 
But here's the best bit:
This mattress topper's quality is like no other; it is RDS certified and features a natural hypoallergenic cotton shell that is ideal for allergies or just overall cleanliness. 
This sits at 2 inches thick, which is much thinner than other toppers, but it will definitely bring an old mattress back to life; it may not be thick enough for all sleepers, but it's a great start– plus, it's a super affordable way to make your mattress softer.
RDS certified and a super comfortable topper
Latest Deal: Allied Essentials Luxe White Down and Goose Featherbed Mattress Topper
The Way to Buy Feather Mattress Toppers Buyers Guide
Feather mattress toppers are basically individual cushioning layers that can be added to mattresses for additional softness, comfort, and improved support. These toppers can rest freely on top of the mattress or be tucked beneath the top sheets, depending on the design.
Toppers are available in all types of sizes and for all standard mattress dimensions. Still, they are smaller, allowing them to fit beneath sheets easily without clumping up.
The best feather mattress toppers offer comfort, stability, and breathability and will allow you to gently sink into the topper for a more restful night's sleep
Let's break down everything you need to know!
What's A Featherbed, Feather Mattress Toppers?
Featherbeds of feather toppers are generally made from geese or ducks' plumage, with most of them filled with coarser exterior feathers. However, some models may have a combination of outer feathers and softer underside plumage, which is called 'down.' You can measure the down by using 'fill power,' which refers to how effectively it insulates and how soft it feels.
The down/feathers in these toppers are encased in a cover made of polyester or cotton, and most featherbed covers are baffled to quilted to prevent clumping and keep the feathers contained.
Featherbed covers are measured using thread count, essentially the number of horizontal and vertical threads per square inch. A higher thread count means that the cover contains more feathers and is less likely to wear out or get damaged.
Important Considerations Before Buying Feather Mattress Toppers
There are quite a lot of benefits that you end up gaining with a feather mattress topper but do have some disadvantages as well that you should know about. So, without further delay, here's everything that you should look for when you're buying a feather mattress topper.
Potential Contamination
Feather mattress toppers can get contaminated easily, which doesn't make them very reliable to protect your mattress. However, you should know that you should think again if you get a feather mattress topper for your kids. That's because when a child is going to wet the bed during the night, their urine will soak into the feathers.
Any feather topper that has been contaminated in this way is essentially ruined because it's challenging to wash out the pee. Therefore, you should avoid getting a feather topper mattress for a child's bed, especially one with incontinence issues.
Flattening of Feather Mattress Toppers
If you've done your research and read the reviews about feather mattress toppers, one of the most common complaints you'll find is related to the filling flattening out quickly. You should know that duck and goose feathers are natural materials and don't have the spring and bounce of foams. So, all featherbeds are going to flatten out after some time.
What you can do to counter that problem is to take the topper and give it a hard shake to loosen up the packed feathers and bring them back to their original condition. It's something that you'll need to deal with because, in exchange, you're getting to sleep on a cloud-like mattress on most nights.
Fill Weight
The 'fill weight' of a feather mattress topper relates to the total weight of the down and feathers used in the filling. The heavier the weight, the more down and feathers, which results in more support for you. It's important to note that feather fillings aren't recommended if you want good therapeutic support because they are only for comfort.
However, some people suffering from back pain and back problems may benefit from a featherbed instead of a firm or hard memory foam mattress. The memory foam mattress offers support to the individual, while a featherbed offers comfort.
Baffle Box Construction
Any mattress topper or comforter made with a baffle box construction indicates that the feather filling is highly stable. Each 'shell' or 'box' includes a 3-dimensional chamber stitched into the vertical interior walls, and each of these chambers is filled with down and feathers.
These chambers prevent the feathers from moving around too much and help retain the fluffiness or loft of the down and feathers. That makes a massive difference in maintaining the comfort of mattress toppers and retaining heat on cold, winter nights.
Pros and Cons of Feather toppers
Before you go ahead and buy a featherbed today, you must recognize the pros and cons so that you can make an informed decision. To help, we're going to be sharing the benefits of a featherbed first, which include:
They're Affordable: Featherbeds are extremely affordable, contrary to popular belief, and you can find one between $100 to $150 in the market. They are also good for about 2 to 3 years, but they offer you great value for your money, especially compared with memory foam toppers.
They sleep cool: Featherbeds tend to retain minimal body heat, ensuring that they sleep a lot cooler than other mattress toppers in the market.
They're Lightweight: The name 'featherbed' signifies that these toppers will be exceptionally lightweight, with most models only weighing around 20 pounds or even less.
They're good for sex: Featherbeds are incredibly responsive, low-resistance, and somewhat bouncy. All these factors make them a great choice for lovemaking.
They provide easy movement: Featherbeds don't provide any resistance, which makes them easier to move on than other toppers that tend to sink underneath the body of the sleeper.
They offer enhanced comfort: Featherbeds are incredibly soft and are known for improving all sleep surfaces' feel and comfort.
The Cons of Featherbeds
Featherbeds have some drawbacks that you need to be aware of before you end up buying them.
Protruding Features: This is a big problem with featherbeds, and a lot of owners have complained about feathers protruding or poking through the cover. These can cause great discomfort and may even pose an injury risk.
Allergy Risk: If you've got allergies and tend to fall sick easily, featherbeds may not be ideal for you since feathers carry a high allergy potential than other topper materials.
Expensive Cleaning: You should only dry clean featherbeds and don't go for machine washing because it's costly to clean these beds, and the costs accumulate quickly over time.
Below-average Conforming: Featherbeds don't conform as closely as latex or memory foam toppers and may not be ideal for sleepers who experience pain or pressure in sensitive areas of their body.
Odor Potential: Featherbeds tend to emit certain unpleasant smells when they are removed from their packaging, and it may take a while before the odors dissipate.
Poor Retention Shape: Most featherbed owners claim that their mattress topper became mishappen and lumpy after a short while, and it's not an uncommon occurrence. The only way to deal with this problem is constantly fluff and shake the featherbed regularly.
Minimal Motion Isolation: Feather toppers don't absorb and isolate motion in the same manner as latex or foam mattresses. That can be a problem for individuals who share their bed with another person and tend to wake up easily if there is slight movement in the bed.
FAQs
What's the difference between 'down' and feathers?
It's simple, 'down' is found underneath the feathers. It's a known fact that feathers are the outer covering, and they play a role in helping the bird take flight. Down is found on the underbelly of the bird and is meant to keep it warm. It's fluffy and light and extremely comfortable when used in a mattress topper.
Are goose feathers and down better than duck feathers and down?
Goose-down clusters are larger than duck clusters. This means they have higher fill powers, and because you get more down, goose down is more comfortable than duck down. Goose feathers are also smaller than duck feathers, making them more expensive; however, they are also more comfortable.
If you're looking for comfort, goose feathers and down should be the ideal choice, but duck feathers are also good. It's important to remember that the more down you get, the more comfortable the mattress topper will be. Duck feather toppers are also ideal for heavier people or those who want to sleep on a firmer surface. Down will soften the surface and is ideal for lightweight people who want comfort.
Is it safe to use an electric blanket on a feather mattress topper?
It's safe to use an electric blanket on a featherbed, but it's recommended to place the electric blanket under the topper. That way, heat will rise into the mattress topper and fluff up the feathers and the down. However, you should be mindful that featherbeds are warm, and an electric blanket may make your bed too warm.
You can turn on the electric blanket before going to bed and turn it off when you get into bed for the best results. You may find that turning it off 15 to 30 minutes before getting into bed is the best choice, but there's no need to worry about using electric blankets with feather or down toppers.
How should I clean my feather mattress topper?
You shouldn't wash a feather mattress topper with bleach, and you should air it regularly to keep it fresh, but don't leave it hanging in direct sunlight. You may spot clean the cover with a soap solution and warm water, but don't use bleach. Regular lofting and airing are all that you need to do with a feathr topper, but some mattress toppers are machine-washable. If you are washing your feather mattress topper, you should only do it at a low-temperature setting with a slower spin speed.
What effect does thread count have on feather toppers?
The thread count relates to the number of threads in 10 square centimeters of fabric. Feather toppers generally have cotton used as a fabric, and the threads are counted vertically and horizontally. If you prefer a silky-smooth feel on your topper, you should go for the 250-thread count, but if you want it to be crisper, then anything below 250 is going to be ideal.
Summary of the best feather mattress toppers
My selection of the best feather mattress toppers and featherbeds were made based on available review data, a careful review of manufacturers' websites, and personal experience.
Mattress toppers offer an excellent way to rejuvenate an old mattress, covering lumps, or filling in depressions in the mattress. The thicker the mattress is, the better the sleeping experience will be, and my feather toppers picks were chosen for the comfort they provide users.
If your existing mattress is too hard for you to sleep on, you can transform your sleeping experience entirely by buying a feather mattress topper. If you have purchased a mattress recently but it is still too firm, a feather mattress topper can soften it for you and provide you with a luxurious and comfortable sleeping surface to rest on.
If your current mattress is soft, a feather topper will not help you since it will only make the mattress softer.
Now that you've got a better idea of what a feather topper is and what it provides users, you're in a better position to buy the right kind of feather topper for yourself.
Happy sleeping!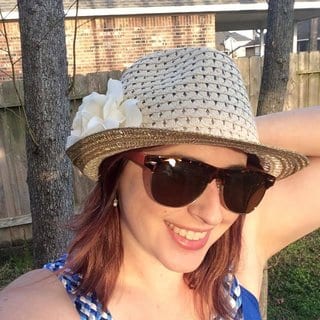 Head of Content at Sleepedia
ABOUT
Lauren is Sleepedia's Head of Content and is a certified sleep therapist who loves her sleep. Lauren helps people to get back to those deep, dream-filled nights they once had by helping to identify problems with their routine and sleep setup. Whether it's a mattress or pillow, Lauren researches the best products in the industry to provide you with an in-depth review of everything you need to know to encourage your buying decision.