Best Cooling Mattress Pads And Toppers [Review] in 2021
Last Updated on March 16, 2021
written by sleep expert Lauren Hall
See full list of products
Find the products quick - here are the review winners
Have you been struggling to find a mattress to keep you cool at night and feel like nothing is working? When you're too warm, you struggle to sleep, and waking up with hot flushes is no laughing matter.
I've been there and it sucks, you're not alone.
Lucky for you, I have spent 12 hours hunting down the very best cooling mattress toppers and pads; factoring in toppers that are both hypoallergenic and have top-notch cooling properties that'll help the body to regulate temperature and provide a better night's sleep.
All too many of us overheat at night as we struggle to regulate our body temperature due to poor mattresses, toppers, and comforters. Sometimes the summer is the best feeling during the day but even the AC can't help at night.
But it's not all doom and gloom, I'm here to help:
To make things easier for you I have broken down all the confusing features and only added the mattress pad and mattress topper that I can guarantee will make the world of difference, considering different thicknesses, shapes and sizes in order to get your best fit.
Here's a tip: I would recommend trying a few out, as well as taking some time in the review section. I may have selected some gems but they may not work for everyone, find your best match using my selection today and you will get back to the big Zs before you know it!
Let's dive in, you won't want to miss my top pick!
We've spent the time researching so you don't have to:
Our Top 6 Best Cooling Mattress Pads & Cooling Mattress Topper
eLuxurySupply Store Extra Thick Cooling Mattress Pad
best cooling mattress pads for night sweats
Now coming in hot at number one, has to go to the eLuxurySupply Store with their bamboo mattress pad that has gone through thermal effusivity tests to create the very best cooling product. 
Now bamboo is a very popular and effective material for keeping mattresses cool. It is so effective because it is lightweight and allows air to pass through it. This mattress pad combines bamboo with a blend of microfibers, and the result is a soft and cool texture.
It is softened with down-alternative fibers that are hypoallergenic, so this topper is ideal for those that like a very soft and comfortable sleeping surface. The topper is double stitched, so you don't have to worry about the filling coming out. 
The high-quality construction helps the topper stay soft and fluffy for a long time. It is about one inch thick, so it adds some heft to your mattress without being overpowering. Plus, the fibers add that little extra support while still being cooling. 
But wait, there's more! 
This topper comes in six different sizes, ranging from twin to California king, so you can use it no matter what size bed you have. It is also very easy to clean because it is machine washable when washed and dried on low settings.
To top it all off, the company offers a 30-day money-back guarantee as well for peace of mind when shopping. You will have the best-uninterrupted snooze that you've had in a long time, say goodbye to hot flushes, and hello to a restful night's sleep. 
Ideal mattress pad for those who want something soft, fluffy, and cooling
It's good for people who want to add some softness to their mattress
Good flow of air passes through the mattress
High quality construction
Nothing negative about this mattress
Latest deal: eLuxurySupply Store Extra Thick Cooling Mattress Pad
ExceptionalSheets Pillowtop Cooling Mattress Pad
best cooling mattress pads for hot flushes
The Extra Plush from Exceptional Sheets is not marketed as a cooling topper, but as an actually fitted mattress pad, so they don't emphasize the cooling element. So why does it win 2nd place in my editor's choice?
Well, for several reasons. Firstly it's the price, which is half the price of many other cooling mattress pads on the market.
Secondly, this topper has some glowing reviews from users who all agree that it has great cooling properties down to the hypoallergenic all-natural bamboo fabric, which helps regulate your body temperature sleep.
This mattress pad comes in all sizes (Twin, Twin XL (Twin Long), Full (Double), Queen, King, California King (Cal King), and Split King), and the company is owned and operated by a US Military Veteran which gets our thumbs up too!
But that's not all:
This pillow-top mattress pad will make you feel like you're sleeping on a cloud, with unbeatable comfort and support. Each mattress pad is filled with Revoloft, state-of-the-art fiberfill with an authentic goose & duck down feel without the feathers poking you! 
You will have relief and restfulness after the tiring days, feeling rejuvenated for the next day. Plus, it gets bonus points for the silent protection that won't interrupt your sleep. For unbeatable comfort and coolness, this one is a winner. 
anti-dust and beg-bug bamboo
Hypoallergenic materials used
Excellent low price tag when compared to others in this category
Mattress pad comes in all sizes
Latest Deal: ExceptionalSheets Pillowtop Cooling Mattress Pad
LEISURE TOWN Queen Cooling Mattress Pad
Best mattress topper that is soft
Nobody wants to wake up hot and flustered, dipping in sweat as a result of a hotbed. But with Leisure Town's HNN Cooling Technology, you will wake up feeling cool and refreshed rather than hot and groggy. 
Not only does this mattress pad regulate body heat, but it also increases the airflow of the mattress to make the mattress pad feel more breathable and comfortable against your body. It will cool down any overheated memory foam mattress in no time!  
This breathable and ultrasoft mattress pad will give you the feel and illusion of sleeping on a cloud, superior comfort without the sweat. Plus, the shape is much more supportive and soft than other brands.
Now:
Leisure Town is also filled with healthier snow down alternative fill, an alternate option to goose and duck down without the feathers poking through. Although the cover is cotton,  any spilled fluid can be wiped easily, and your mattress is fully protected against stains.
If you're a hot sleeper and have a partner that isn't, this will also be a perfect match; it regulates body temperature and balances it out to a perfect temperature that will fit both of you; it will keep you cool and your partner warm. You won't need the AC on anymore!
You may never want to get out of bed again!
Regulates body temperature and has cooling technology
Healthier snow down alternative fill mattress pad
Protects joints and muscles
Mattress pad is machine washable
Latest Deal: LEISURE TOWN Cooling Mattress Pad
ViscoSoft Select High Density Mattress Topper
best mattress topper for side sleepers
If you love a memory foam option but often find you get hot while you sleep, I have selected my perfect pick for you.
Now I know with memory foam, sometimes heat is unavoidable, so that I wouldn't recommend memory foam every time, but Viscosoft has pretty good cooling properties. It is gel-infused that is engineered to optimize airflow and reduce trapped body heat.
Their breathable, well-ventilated design distributes body heat evenly to improve comfort while you sleep and helps you feel more rested when you wake up in the morning.

This memory foam mattress topper is unmatched; they improve comfort by aligning your spine, helping to relieve common pressure points while preventing you from sinking into the foam.
This will give you the best sleep you'll ever get!
Not only does this memory foam mattress topper save you money, but it also prolongs the life of your mattress while awarding you the quality of sleep you deserve. ViscoSoft has researched and tested its design to ensure it delivers maximum comfort and restful, uninterrupted sleep.
You will feel as refreshed and energized as you would with a brand new mattress. This memory foam mattress topper will keep you cool, well-rested, and overall happier when you wake up in the morning; your bed will feel like new! 
Increases airflow while reducing moisture
The gel infusion transfers away heat and keeps you cool while you sleep
Aligns spine, reducing pain and stiffness
Memory foam isn't the best option if you're a really hot sleeper
Latest deal: ViscoSoft Select High-Density Mattress Topper
Sleep Innovations 4-inch Dual Layer Gel Memory Foam
best mattress topper made out of memory foam
Next on our list of cooling mattress toppers is the Sleep Innovations 4″ cooler, whose mantra for this product is "Like sleeping on a cloud," and users certainly agree.
You can see by design it is purposefully designed to look like a bright warm sky with swirling clouds.
However, it's not the colors that make this product effective; it's the generous use of the 4-inch thick cooling gel memory foam, double-layered with 2 inches of fluffy fiberfill– personalized for luxurious comfort night long.
This cooling mattress topper comes with a made-to-measure cover that can easily be removed and machine washed, keeping your bedroom clean and smelling fresh. It's a comfort that's convenient. 
Wanna hear the best bit?
This mattress topper is infused with gel memory foam designed to keep you cool at night by drawing all heat away from your body and regulating your optimal temperature for the best-undisturbed sleep.
It gets bonus points for being hypoallergenic, keeping you and your bed fresh with good materials for your sleep. This one is one of the tops memory foam mattress toppers that keep you cool. 
This mid-priced mattress pad is the thickest in our list
Comes with 2″ of cooling gel and a further 2″ of memory foam
Great for those who want to add an additional layer of comfort to their sleep
Cooling wise, this is a great topper and is highly rated amongst buyers
Latest deal: Sleep Innovations 4-inch Dual Layer Gel Memory Foam
Lucid 3-inch Ventilated Gel Memory Foam Mattress Topper
best mattress topper with cooling gel
Many people associate memory foam with trapping in heat, but when you infuse it with gel, it can actually be very cooling as you sleep.
This memory foam mattress topper is made from Certi-Pur memory foam that is infused with a soft gel that disseminates heat as you sleep, preventing you from feeling overheated or uncomfortable. It also has a unique open-cell design, which allows air to flow in and out of it easily.
Most memory foam products are not cooling because they aren't designed to allow air to pass through them. However, this foam is constructed differently so it will not trap in heat.
It is also an ideal mattress topper for those who need extra support while they sleep because the memory foam is very supportive and reduces pressure points during sleep.
Now:
It molds to the shape of your body as you sleep, so you get the support that is specific to your needs, and you feel cradled and supported at night. This mattress topper is two inches thick but also offers one that is three inches for that extra support and will fit most bed sizes. 
It does not have the odor that is associated with traditional memory foam mattress toppers. It also holds its shape very well without sagging. Overall for the price and quality of memory foam ventilation, this one is a winner. 
Support for muscles and joints
Cooling feeling of a gel or cooling mattress topper
Great thickness to remove any inconsistencies in a mattress
Made from Certi-pur memory foam
those who prefer a soft mattress topper may not like this option as much
Latest Deal: Lucid 3-inch Ventilated Gel Memory Foam Mattress Topper
Best Cooling Mattress Pads and Mattress Topper Buyers Guide
A good night's sleep can be very easily disturbed by overheating. It isn't easy to get comfortable when you're sweating and really feeling the heat. That's why a cooling mattress pad were invented in the first place; to come up with an innovative but simple solution to bedtime heat woes.
With such a wide variety of mattress pads available, it can be difficult to figure out which one may work best for you.
It's not uncommon, either, for a company to label their products as having cooling properties when in reality, the mattress topper leaves much to be desired in the temperature regulation department.
It's important that, before making a purchase, you know what to look for in a good cooling mattress pad. It should help you spread your body weight evenly, like a normal topper, and have great cooling properties for a better, deeper, more quality sleep.
In order to find a mattress pad that fits the bill, you'll have to be aware of all its features. To help you out, we've compiled a list of things and characteristics to keep in mind while you're making your decision.
What's the Difference Between a Mattress Pad & Mattress Topper?
They may seem very similar, but they do have their differences. A mattress pad is also known as 'mattress protectors.' They are often made out of a thin layer that tucks over the mattress's top as a fitted sheet would. Its primary purpose is to protect the mattress by finding some cooling mattress pads that are used to add circulation.
On the other hand, a mattress topper is an individual layer of cushioning placed on top of the mattress of sleep surface to add comfort and support to your sleep. A mattress topper is used to add ventilation to your mattress and added comfort, and help regulate body temperature throughout the night.
How does a cooling mattress pad and mattress topper work?
Cooling mattress pads and toppers are designed to regulate body temperature while you sleep. They work by balancing out and circulating airflow and the mattress while also helping absorb moisture and prevent heat build-up.
They help to contribute to your core body temperature. To fall asleep, our body needs to drop 1ºc in temperature, so if you suffer from getting hot throughout the night, it can be more difficult to fall asleep.
There are two types of cooling mattress pads you can find on the market:
Active Cooling Mattress Pads and Toppers: 
Now an active cooling mattress topper goes beyond just providing padding to cool you down; but they're also able to be fitted with attachable fans of water pumps to keep you cool throughout the night.
They allow to maintain ideal sleep temperature and can be used for both cooling and warming benefits. They allow for effective temperature regulation with a low amount of odor.
The great thing about active cooling is that you can control these functions to work exactly to your specifications. You can make your mattress pad cooler or warmer based on climate, temperature, and your personal preferences.
They're also fairly durable but are not usually very thick and are often much more expensive than passive cooling mattress pads and toppers.
Passive Cooling Mattress Pad and Mattress Toppers:
Instead of using attachments, passive cooling toppers are actually constructed and infused with materials (such as gel-infused foams) to absorb and transfer body heat to prevent heat buildup. They also use naturally cool materials, such as:
– Natural latex
– Gel-infused memory foam
– Duck or goose down feathers
– Wool
-Bamboo
– Cotton
– Rayon
They use cooling technologies and test out different materials to see which one keeps sleepers cool. They also work with body temperature by absorbing body heat until it reaches a certain temperature then it stops this process. This helps to regulate body temperature.
You can even put some of these mattress pads and mattress toppers in the fridge or the freezer before use, especially in the hotter months. Passive cooling mattress pads and toppers are often cheaper yet still work effectively when reducing hot sweats.
Passive mattress pads are probably the more convenient and hassle-free form of a topper.
 What To Look For In Cooling Mattress Toppers and Pads
Material
There are an impressive variety of materials available for mattress pads and mattress toppers. Basic and inexpensive toppers may use polyester, cotton, or latex, but better and more comfortable options may be cushioned with wool, fleece, down, or memory foam.
Typically, memory foam that is infused with cooling gel is the best option for both comfort and temperature regulation.
The gel pad prevents overheating by controlling temperatures, stopping them from jumping to uncomfortable heights. The memory foam itself will work even better if it is open-cell or ventilated foam, which allows for better airflow throughout the pad.
Another form of mattress pad that can be great for a cool night's rest is a down feather pad, which regulates temperature much better than other similar toppers. They tend to come at a higher price point, but what they lack in affordability, they make up for in comfort and luxury.
Latex is also a recommended material, and it's more environmentally conservative than the other aforementioned ones.
It tends to be resistant to dust mite and mold, and as such, is more durable and can even last up to 20 years! Of all the less expensive materials, it is also the best at ensuring a good amount of temperature regulation.
The cover of a cooling mattress pad should ideally be made of 100% cotton or something similar in order to promote maximum comfort. But some companies actually manufacture products with special cooling covers too, so you get double the temperature regulation.
After considering the cooling properties of each material, it's then up to you to decide which material will offer you the most comfort.
In order to allow you to judge for yourself, we've come up with a breakdown of the most common and popular mattress pad materials. Some mattress pads may combine two of these features for a better temperature lowering effect.
Memory Foam
This material shapes itself according to your body, which provides paramount support and comfort. It's also known to be quite durable. However, the non-ventilated foam has a tendency to trap hear within it and can counteract any cooling ability a pad may have, so gel-infused foam works best.
Latex – This green material is environmentally-friendly and is also known to be rather versatile. Its firmness is also great for providing support to the body – especially the back – and can be found in very high qualities and feel luxurious.
Feathers or Down – These mattress pads are known for being incredibly comfortable and soft, especially if your mattress is firm. However, they aren't the best for support and they can feel lumpy or uneven if not bought at high quality. If you have allergies, it may not be the best choice for you!
Fiber – If you want the feel of down without its negative properties, you can opt for fiber, which mimics feathers but it highly hypoallergenic. They provide a decent amount of support and are usually great for those on a budget
Wool – This is a fantastic material for all seasons that can keep you cool in warm months and warm in cold seasons. It's extremely durable can is usually of average affordability, but it can be difficult to get it to stay in place on top of a mattress.
Organic – No, this isn't a specific material in particular, but it is an option for you if you prefer to purchase organic products only.
Latex and wool mattress pads can sometimes be certified organic even if they aren't 100% organic, so you may have to do your research about these products as well as their manufacturers.
Types of Cooling
There are many forms of cooling functions that allow for a mattress pad to regulate temperatures. It isn't all about the ventilation properties of the materials themselves. Some high-end mattress toppers have surprisingly advanced and elaborate functions in order to fulfill their purposes.
Choosing between active and passive is a choice based on preference and budget.
Topper Density
Mattress pads usually come with a density rating, which usually runs from 3 to 5, and, as you guessed, informs you of the total density of the topper.
Essentially, density can have an effect on the cooling abilities of a product and change the comfortability of the pad. With that being said, opinions on the most comfortable density tends to differ from person to person.
Here's what you need to know: dense mattress pads don't have as much sink to them, making them feel firmer, thicker, and not as soft as a less dense topper. However, this means that there is more support provided for a sleeping form.
Usually, having a dense mattress pad means it retains a higher amount of heat, although there are some designs that specialize in allowing ventilation to regulate temperatures.
If you have a back problem or are of a higher weight, a thicker and denser mattress pad will usually be the best option for you as it will provide more support. If that's what you're going for, you'd want a mattress pad of a density of at least four.
A denser pad may also be more durable in the long run. But aside from these considerations, you'll have to consider your own preferences in terms of comfort and softness!
A Note on Firmness
Many have argued over whether a firm, soft, or somewhere-in-between mattress pad works best for comfort, but the fact is that it depends on what you like.
A softer mattress pad will fit your body's contours and allow you to really feel the sinking-in sort of comfort that many bedding companies advertise.
Firmness offers more support, and some people personally consider this to be more comfortable than soft mattress pads. You'll have to work out what works best for you!
Other Considerations
While the previous features are the most important ones to think about when purchasing a new cooling mattress pad, there are also some other factors to keep in mind before you buy.
Size – This kind of goes without saying, but your mattress pad should fit the mattress you have so that it doesn't shift. Be aware of the depth of your mattress before buying. Purchasing a mattress pad doesn't properly shift can cause creases and lumps which are quite the opposite of comfortable.
Sleeping Position – It's often stated that you need to shop based on your most used sleeping position. If you sleep on your side, you'll need a product that's thicker and softer, but if you sleep on your stomach, you may need a thinner product.
With that being said, since a large majority of people change positions throughout the night, you can just choose based on what feels most comfortable if you don't have a particular way of sleeping.
Pest and Allergy Control – You should get a high-quality mattress pad that prevents bedbugs or dust mites from infesting it and causing you more problems later on. If you have sensitive skin, then look for a mattress pad that's labeled as hypoallergenic.
Some of these anti-pest and anti-allergy mattress pads even come with wide zips, so that they can fully cover your whole mattress and prevent anything from sneaking in.
Care Requirements – Based on materials, different pads will have different needs. Some require dry cleaning, and others are machine-safe and very easy to maintain. Mattress pads that have gel infusions or down fillings may come with their own set of cleaning instructions, so try to follow them as closely as possible.
Organic, natural, and vegan mattress toppers: If you're concerned with the chemicals used in synthetic materials or just want to reduce the amount of waste in the environment then choosing a sustainable, natural or organic mattress pad may be the way to go!
For my eco-conscious sleepers out there you don't need to worry anymore, there are plenty of high-quality vegan options for you!  
Warranty – This is especially important if you purchase a more expensive mattress pad or one with lots of extra features. A long warranty is a sort of guarantee for a product, so make sure you know the warranty information before purchasing.
It's also a good idea to already know the procedure of getting a refund or exchange on the product if it's faulty.
 FAQs:
Is a cooling mattress topper or a cooling mattress pad Better?
They both work effectively in different cooling methods; a mattress topper will add an extra layer of comfort as a pad is more of a fitted sheet. However, you can use them both together to regulate temperature even more.
A mattress topper will make a mattress feel softer and firmer, adding an extra layer of plush and support while also preserving the mattress underneath. But if you don't want to make any changes to your bed's feel, then a mattress pad will do.
Which is better: active or passive cooling mattress topper and mattress pads?
It is mainly down to preference and budget. If you're looking for some serious cooling performance, then an active cooling mattress topper would work better. But if you're suffering from other issues, then a passive cooling mattress topper or pad may be better.
Passive cooling mattress pads also tend to be much more budget-friendly; you may be paying out a new mattress price if you get an active one.
What Not to Expect from a Cooling Mattress Pad
Unfortunately, cooling mattress toppers and pads don't work as the complete opposite of a heating pad. This means that they cannot fully cool down a bed to a specific temperature, and especially not with the changing climates.
So if your room is already very warm, a cooling pad may not be able to help you with temperature regulation any more than turning on a fan will – if it did, that would quite go against physics!
Why is this the case? Well, a pad collects heat from your body, and then it needs to release all that heat back out somewhere.
When the room itself is already warm, the pad cannot dissipate any of the heat it is holding in an effective manner – and especially not a passive cooling pad! Active cooling pads will work much better in this scenario, but the fact is, even it has its limits.
If you tend to overheat or sweat a lot at night, passive cooling pads may not be enough for you.
Using an active pad can overcome that, but expect to pay more for the added features and electricity needed to run the cooling mattress pad. It'll still be cheaper than racking up the bill for nightly air conditioning, though!
Some Final Words About The Best Cooling Mattress Pads and Mattress Toppers
When choosing a cooling mattress to make those hot, sticky and sleepless nights more bearable, remember to pay attention to the user reviews and more importantly the returns policy.
If you find that your cooling pad doesn't quite fit the bill, most retailers will accept a return within a set time period.
This is why we recommend shopping with Amazon directly as they have an excellent and simple online returns system that provides peace of mind which is crucial when shopping online.
If you have any questions please feel free to drop them in the comments below and I will help out in any way I can.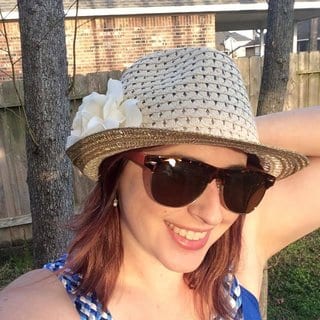 Head of Content at Sleepedia
ABOUT
Lauren is Sleepedia's Head of Content and is a certified sleep therapist who loves her sleep. Lauren helps people to get back to those deep, dream-filled nights they once had by helping to identify problems with their routine and sleep setup. Whether it's a mattress or pillow, Lauren researches the best products in the industry to provide you with an in-depth review of everything you need to know to encourage your buying decision.