Best Sleeping Headphones [Review] in 2021
Last Updated on December 8, 2020
written by sleep expert Lauren Hall
See full list of products
Find the products quick - here are the review winners
Whether you're trying to drown out your partner's snoring or you simply can't sleep without some sort of background noise headphones are a great way to keep your sounds to yourself, but finding the best sleeping headphones and to sleep comfortably can be difficult and even then they may not stay in/on your ears. If you're looking at headphones for ASMR you also need a good quality of sound to produce the triggers correctly. Traditional headphones slide off and don't always have the right quality of sound. Most ASMR artists put a lot of work into creating their sounds and without having good quality headphones you'll be unable to listen to the real quality. Good headphones aren't cheap, and you'll want to have something with noise canceling or similar at a minimum
We've spent the time researching so you don't have to:
Our Top 5 Best Sleeping Headphones
Sleep Headphones Bluetooth
Are you looking for the best bluetooth headphones for sleeping? Built into a comfortable headband to make sure they stay in place these headphones can also double as an eye mask. The quality of sound is pretty good and the band comes in two different fabric options. It's comfortable and even if you're sleeping on your side you won't feel them in there. At a reasonable price, they're a good buy and you can also get them in a wireless Bluetooth version for a little more.
Comfortable even for side sleepers
Cable is braided so that it doesn't get tangled
The cable is a bit too short
Latest deal: Sleep Headphones Bluetooth
At the same price as the SleepPhones these are more like slightly thinner versions of the standard over-ear headphones. They're 1/4" thick and considered to be the thinnest in the world so that they lay flat against your ear. The hooks are made of rubberized wire which is adjustable and they also come with a carry case. They're available in two colors and there's an optional inline microphone with a remote and satin eye mask.
With hooks to make sure they stay on your ear through the night
Ideal for sleepers who move a lot
There's also a Bluetooth version
The volume isn't very loud because they don't fit into the ear canal
Latest Deal: Slim Clip On Earphone 
CozyPhones Sleep Headphones & Travel Bag
What are the best wireless headphones for sleeping I hear you ask? These guys are similar to the SleepPhones but about half the price. They are actually much thinner and the headband itself is washable which is much more sanitary. They can also double as a sleep mask and have lycra built in to make them stay on your head better. The cost is a nice 1.5m length that's braided so it won't short easily. You can also get these in a fun kids size with monster faces. They're comfortable even as a side sleeper.
The lycra is nice and breathable
Has a mesh lining which helps wick moisture away
The headphones themselves are fairly large so they cover the ear
The headband is one size which means it can be too big for some
Latest Deal: CozyPhones Sleep Headphones & Travel Bag
Bluetooth Sleeping Eye Mask with Wireless Headphones
These are an ideal solution for someone who doesn't want to wear a thick headband but usually wears a sleep mask anyway. This is breathable and blocks out all light. The speakers are HD and the position can be adjusted so that you're getting the sound perfectly. The cable is a whopping 5ft long and there's also a volume remote on it. Perfect if you don't want to sleep with your phone too close. There's also a 30-day money back guarantee. It feels like a normal sleep mask and has a sponge inside to keep it from getting sweaty. The tapes are also adjustable so it can fit any head.
It does great at blocking light out
The adjustable design makes it great for all sized heads.
The HD speakers give a fuller and richer sound
The speakers themselves can also be adjusted to where they sit on your head
The speakers aren't particularly loud
Latest deal: Bluetooth Sleeping Eye Mask with Wireless Headphones
Bose QuietComfort 20 Acoustic Noise Cancelling Headphones
If we had to choose, these are the best noise cancelling headphones for sleeping in 2020. They are in a whole other league when it comes to price and with good reason. Bose is one of the best names in sound and these headphones provide some of the best quality and in-depth sound available as sleep headphones. The noise canceling actively reduces external sound and there's also an aware mode that lets you lower the volume if you need to check what's going on without removing your earphones. They have Stay Hear tips to keep the headphones in your ear canal and are silicone to make them conform better for comfort (which you can also buy spares and other sizes if needed). There are two versions available – one for apple and one for Android.
The wires are thick and sturdy so they won't split
It also has bright indicator lights so you know when to charge it
The headphones can also be used while charging
They're low profile and fit into the ear canal so even side sleepers won't notice they're in
These aren't Bluetooth or wireless
Latest deal: Bose QuietComfort 20 Acoustic Noise Cancelling Headphones
Conclusion
Without a doubt, the best sound comes from the Bose headphones, however, since they're essentially regular earbuds some people may not find them comfortable for sleeping in. The design of the AGPtEK eye mask is clearly the best when it comes to sleep and sound together in one and it's adjustable. The best sleeping headphones, therefore, combine something to help you sleep and not just a headband to keep them in place.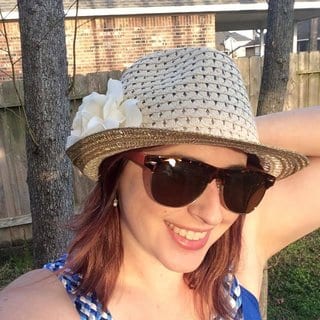 Head of Content at Sleepedia
ABOUT
Lauren is Sleepedia's Head of Content and is a certified sleep therapist who loves her sleep. Lauren helps people to get back to those deep, dream-filled nights they once had by helping to identify problems with their routine and sleep setup. Whether it's a mattress or pillow, Lauren researches the best products in the industry to provide you with an in-depth review of everything you need to know to encourage your buying decision.