Best Eye Mask For Sleeping [Review] in 2021
Last Updated on December 8, 2020
written by sleep expert Lauren Hall
See full list of products
Find the products quick - here are the review winners
Sleep can be an elusive creature. We all have rituals and requirements that help us finally drift off. One of the things that are most important is darkness. Your body clock relies on darkness to make you sleepy and without darkness, most of us can't sleep. But what happens if there are streetlights, your partner needs a nightlight, or it just isn't dark enough in your room for you to drift off. The idea of a sleep mask isn't new, and while thanks to some new movies people are now seeing them as another toy for the bedroom they're still designed to comfortably let you drift off. There are several different basic designs of sleep mask including the simple shape down to the contoured and ones with built-in headphones! There are so many options out there that it can be tough to figure out which one you want.
We've spent the time researching so you don't have to:
The Best Eye Mask for Sleeping
Alaska Bear Natural Silk Sleep Mask
This is your basic sleep mask, a simple black shape mask with an elastic band to hold it in place. It's cheap, basic and won't get tangled in your hair since it's not got velcro. This is made of natural mulberry silk on both sides so it's reversible and breathable. The silk is hypoallergenic and allows the skin to breathe so you don't feel hot and it won't irritate sensitive skin. The strap adjusts from 15.8 to 27.6" and will not get in the way of earplugs or CPAP masks. The silk is thick enough that you won't see through it even in daylight and large enough that it covers your entire eye area without covering the nose.
Two strap design that helps it stay in place better
large enough to cover the entire eye area
Flexible so it moves with you while you're sleeping
It's made of natural materials like silk and cotton
These are basic, and the quality isn't great
Latest deal: Alaska Bear Natural Silk Sleep Mask
Bedtime Bliss BTB01 Contoured Mask
These come with earplugs and a carry bag to protect them when traveling as well as an ebook with sleep tips. The eye mask has a bubbled contour shape which is light and gives a puffed out area around the eyes to stop the lashes getting squished. This is ideal for a woman who wants to sleep with fake lashes in since it will stop them from getting crushed and allows you to open your eyes while still having the mask on. The black foam material holds its shape well and cups around the eye area to stop light getting in around the nose. The back is adjustable via velcro straps and it won't put pressure on your eyes like a traditional flat mask.
The design of these helps to prevent pressure on the eyes
It's thinner and lighter than the traditional cloth mask
The foam pops right back into place if it gets smashed.
This isn't great for stomach sleepers 
Latest deal: Bedtime Bliss BTB01 Contoured Mask
Jersey Slumber 100% Silk Sleep Mask
A slightly larger version of the Alaska Bear, this has a much taller profile and wraps around the head. It's made of a silk-satin blend and is thick enough to block out light completely. It's hypoallergenic and washable with no latex.It's ruched in the middle of the nose to fit around a CPAP machine. The band wraps around the ears and is padded to add muffling.
Even if it slides up or down while you're sleeping it will still cover your eye
The color doesn't run d it feels nice and soft
It's very thick and foamy which can get hot at night
Latest deal: Jersey Slumber 100% Silk Sleep Mask
Simple Health Sleeping Eye Mask
Similar in shape and size to the Alaska Bear mask this also comes with a gel insert that can be warmed or cooled. The cooling helps to reduce swelling in the eye area and can leave you with less puffy areas. The kit also comes with a storage bag and ear plugs. It's made of a triple weave silk material which is thin and light and has two adjustable elastic straps in the back to keep it in place. The nose area is also adjustable which can help block even more light.
One of the cheapest masks,
The gel pack is an added bonus
The elastic doesn't catch in hair
It's soft enough not to irritate the eyes
The straps are a bit flimsy
Latest deal: Simple Health Sleeping Eye Mask
AGPtEK Ultra Soft Sleep Headphones Eye Mask
A great idea for someone who wears headphones to sleep as well since this has them built into the eye mask. It's made of a breathable foam with mesh covering which helps air circulate better through it while still blocking out all the light. The speakers have HD sound and can be adjusted so that the audio goes into your ear. The speakers are low profile so it works for side sleepers too. The cable is 5 feet long and has a volume remote so you don't have to sleep with your phone next to you. The back is velcro adjustable and it's also washable since the headphones can be removed.
These block light really well 
The speakers have a nice rich sound
Adjustable so they will fit anybody
The velcro can get stuck in longer hair
Latest deal: AGPtEK Ultra Soft Sleep Headphones Eye Mask
Conclusion
The best eye mask for sleeping is one that blocks the light out and doesn't interfere with you while you're sleeping. If you need extras like headphones then the AGPtEK is a convenient setup, though if you're listening to binaural sounds you may be disappointed in the quality.
The Aveline is the best at blocking out light but it's thick which some people may find sweaty and uncomfortable.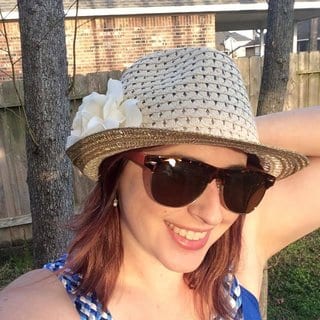 Head of Content at Sleepedia
ABOUT
Lauren is Sleepedia's Head of Content and is a certified sleep therapist who loves her sleep. Lauren helps people to get back to those deep, dream-filled nights they once had by helping to identify problems with their routine and sleep setup. Whether it's a mattress or pillow, Lauren researches the best products in the industry to provide you with an in-depth review of everything you need to know to encourage your buying decision.