Best Queen Size Air Mattress [Review] in 2021
Last Updated on March 16, 2021
written by sleep expert Lauren Hall
See full list of products
Find the products quick - here are the review winners
Do you have guests staying over at your place but no spare beds available to accommodate them?
Well, good news, I'm here to help!
I have spent hours researching and traipsing my way through hundreds of queen-size air mattresses, looking for the right balance of support, height, comfort, durability, and warranty, narrowing down my search to my top 5 picks!
Air mattresses are brilliant for accommodating friends and family when they come to stay, but finding a good quality, comfortable mattress that won't puncture after the first night can be quite a challenge, especially under a budget. 
Now, wait, I have good news!
Whether you're looking for a queen size air mattress for a camping trip or holding up a few more friends in your home, the top 5 I have picked for you are not only comfortable, but they're built to last — no more waking up on a flat air bed, yay!
But here's a tip: Before you click to buy, think of what you're going to use this queen size air mattress for; if you're using it on a camping trip, I would advise looking for one that's most portable, durable, and comfortable for the hard floor. For friends, I would recommend picking the most comfortable.
Let's break it down; you won't want to miss this!
We've spent the time researching so you don't have to:
Our Top 4 Best Queen Size Air Mattress
SoundAsleep Dream Series Air Mattress
SoundAsleep Dream Series is one of the most recognized brands for air mattresses; with several options to choose from and good quality all the products, it will always seal the number one spot for the best overall.
The SoundAsleep Dream Series airbed  is equipped with ComfortCoil technology to ensure you get quality and comfortable sleep. It comes with a 15-gauge material and multi-layered flocked top on the surface.
Anyone using the SoundAsleep Dream Series airbed will realize that the air mattress provides almost the same comfort level as a traditional mattress. 
In terms of convenience, SoundAsleep is one of the best; it cannot get any easier to inflate and deflate with their built-in electric pump and one-click toggle– it'll be done in four minutes, tops! Plus, it gets a thumbs up for quietness; it is 20% quieter than any other brand. 
Now:
Unlike most air mattresses, the Dream Series queen size air mattress doesn't let you suffer from unwanted slipping and sliding. The patented SureGrip technology used in the air mattress prevents slipping, sliding, and mattress movement.
If that wasn't enough, this queen size air mattress also has inflated dimensions of 78" x 58" x 19", which makes its height twice more than most air mattresses. Its double air chamber construction makes sure the air within the mattress stays equally distributed and much more durable.
When fitted with a sheet, it feels more like a regular mattress in terms of comfort, no more achy back pain caused by airbeds anymore! 
Enhanced sleeping experience with ComfortCoil technology
Raised air mattress for everyday use
Only has a one-year warranty
Latest deal: 
SoundAsleep Dream Series Queen Size Air Mattress
King Koil Queen Size Air Mattress with Built-in Pump
best queen air mattress with built-in pump
If you're looking for the most comfortable air queen size mattress on the market, then King Koil is the one you need. This King Koil Queen size mattress was designed for comfort and approved by the Internation Chiropractors Association.
One night sleeping on this bad boy, and you won't even believe you've slept on an air mattress. 
King Koil is designed to offer maximum comfort with its soft flocking layer, thick, durable, waterproof design.  It uses Enhanced Air Coils Technology for extra spinal support that promotes good sleeping posture, which you won't find in all airbeds. 
It meets up to the same level, and some argue even more than the SoundAsleep Dream series, but it offers a suede top and even a built-in pillow. King Koil also provides a built-in pump for ease of use when inflating and deflating. 
But that's not all:
Punctured your airbed by accident? No worries, King Koil comes with patch kits, plus a 1-year-warranty so that you can order with complete confidence and peace of mind. King Koil is perfect for overnight guests and ideal for camping trips, thanks to its durability. 
King Koil utilizes high-quality, puncture-resistant materials that prevent normal wear and tear like no other mattress. The durable PVC combined with soft flocking creates a waterproof, durable airbed that is meant to last a long time.
You will absolutely love what you get out of this one air mattress. Although it is slightly more pricey, it is definitely worth it to buy 4/5 air mattresses every few years. 
Uses enhanced air coils technology for extra spinal support 
Raised air mattress with built-in pump
Comes with puncture patches
Durable, waterproof and comfortable
Some have had issues with the pump
Latest Deal: King Koil Queen Size Air Mattress with Built-in Pump
Intex Comfort Plush Elevated Dura Beam Queen Size Airbed
Now for this kind of quality at the price you get, this one is simply unbeatable; you won't even believe you're sleeping on an airbed! You will never find such a firm airbed; it is sturdy, durable, and super comfortable. 
Where do I start? 
Well, to begin with, this air bed is covered in soft flocking, plush pillow top, velvety surface, and extra support comfort. The comfort on this mattress is unrivaled, and not the mention the support system you get– rather than dipping, it stays firm for maximum support. 
In terms of convenience, this one is a winner too, it is easy to inflate, ready in 4 minutes, plus it comes with a carry bag which is brilliant for storage and transport. The velvety surface makes it both abrasion and puncture-resistant– brilliant for on the go. 
But that's not all:
This air mattress is 100% more durable, 35% more supportive, and 15% lighter than any other queen size airbed. It can hold up to a whopping 600lbs! It even has indented sides to make sheet fitting a hell of a lot easier. 
For a queen-sized airbed mattress that's under $75, this one is an absolute winner for the quality and comfort. Perfect for overnight guests and even durable enough for the rough camping trip. 
Inflated in 4 minutes, ideal for everyday use
Raised air mattress can hold up to 600lbs
100% more durable, 35% more supportive, 15% more lightweight
Unmatched comfort and easy to fit a sheet
Latest Deal: Intex Plush Elevated Queen Size Airbed
EZ INFLATE Luxury Double High Queen Size Air Mattress
Are you looking for a reliable airbed that will provide a comfortable night's sleep while remaining at an affordable price? Well, let me introduce you to the EZ Infate– this bad boy is made out of durable, puncture-resistant PVC and can hold up to 600lbs. 
This queen-sized mattress offers maximum sleep space, even more than other brands, as it is measured from edge to edge of the flocked top and not the rounded edges. While inside, it uses air coils beam technology to offer unmatched stability and support levels while you rest.
But wait, here are the best bits:
Not only does this airbed provide supreme support while you rest, but it is also super adaptive to different sleep styles; you can add or relieve air for the desired level of firmness and comfort. Plus, the waterproof top is super easy to care for. 
One thing I love about this mattress is the warranty the company offers. You can order with complete confidence that you have 2 years warranty if something goes wrong– that is much higher than most brands.
It can be used at home, on a camping trip, or for when friends and relatives come to stay over the holidays. The comfort and durability of this one are what make it a winner in my eyes.
Raised air mattress for added comfort
Prevents slipping and sliding
Leak-free mattress with an airtight valve
Some have had some issues with deflation but with 2 year warranty it can be sorted
Latest deal: EZ INFLATE Luxury Double High Queen Size Air Mattress 
Etekcity Queen Air Mattress
If you love to travel and are constantly on the go exploring new places, then this queen size camping mattress is the one for you. Etekcity is the most portable out of the lot! 
This airbed was specially designed for road trips, travel, and outdoor use. It is made out of thick, puncture-resistant, waterproof, durable PVC that can withstand harsh grounds and environments without damaging the mattress. It can even hold up to 650lbs of weight!
I have picked the one that is 9 inches tall, so it is tall enough to keep you protected and comfortable from the floor, but it will fit in most tents, camper vans, or any tight spaces that the others may not.
You may be asking yourself, what makes this airbed so great for camping?
Well, let me tell you: not only is it super portable, but it allows you to use and blow up without having to have access to an outlet within 90 seconds, making them brilliant for late-night road trips and camping trips with friends and family. It even comes with AC/DC adapters.
In terms of comfort, it may not be as comfortable as others but considering it is half the thickness, it is still a pretty good choice! It has flocked velvet that is soft and comfortable even without a sheet and has an anti-skid bottom to keep it from sliding.
With a rechargeable pump and storage bag, this airbed is ideal for camping in a tent, overnight guests, temporary accommodations, traveling, plus it offers a 1-year warranty– what more could you want?
Ideal for camping or everyday use
Prevents slipping and sliding
Super portable and durable
It can be quite difficult to get in and out of it as it is so low to the ground
Latest deal:Etekcity Queen Size Air Mattress
EnerPlex Never-Leak Queen Size Air Mattress
EnerPlex Never-Leak Luxury Queen Size comes with the fastest and most advanced pump on the market. If you are tired of waiting for your air mattress to inflate, then this queen size mattress is for you.
You can inflate and deflate it in less than 90 seconds, which is the fastest for any air mattress we have seen so far. Another distinguishing quality of this air mattress is that you can use it wirelessly. However, you will first need to charge it completely. 
You can inflate the entire queen size bed four times after the pump has fully charged. The pump lets you deflate the air mattress four times after a full charge. If you forget to charge the pump, you can use it by plugging it into a 120V outlet with the adapters.
But wait, I have more cool features!
They use high-quality materials and construction so that you can sleep better. The Coil Beam construction of the air mattress ensures that users have firm support behind their backs and enjoy proper spinal alignment– you won't even believe you're sleeping on an airbed.
They have gone out of their way to ensure that the mattress passes the test of time. The air mattress is made from puncture-resistant PVC to protect it from protruding objects. Not only that, but the mattress also has welded seams to enhance its durability.
Besides that, the air mattress's soft flocked top provides the perfect mixture of quality, durability, and comfort. The EnerPlex Never-Leak Luxury is built for mobility, thereby allowing you to sleep both indoors and outdoors.
Can inflate wirelessly or using an outlet
Made using puncture-resistant, durable PVC
Leak-free mattress with an airtight valve
Latest deal: EnerPlex Never-Leak Queen Size Air Mattress
Coleman Camping Cot Air Mattress
best queen air mattress for camping
If you're an outdoor lover and looking for a permanent queen airbed to accompany you on all your adventures, then Coleman another excellent option I cannot wait to tell you about. 
The main differences from the others I have selected for you today are that the steel cot base lifts the mattress 22 inches off the ground, protecting you while delving into the great outdoors and joys of camping. 
Coleman is a well-respected brand and loved by many campers out there; it adds that little extra luxury or feel of home while you're enjoying new sights and areas. 
Now, in terms of convenience, Coleman comes with a 4D battery-operated pump, making life so much easier when inflating on the go. No more need for an outlet or charge up the pump before use; just change the batteries when needed!
Just pump and go!
Coleman uses air coil technology called ComfortStrong, which provides support and sturdiness; they also ensure that their airbeds do not leak throughout the night (there's nothing worse than a 2-week camping trip airbed punctures within the first few nights). 
It even comes with a sewn-in zip cover to provide the same feel of a fitted sheet, adding comfort. Most airbeds are directly on the floor, but this one is propped up, making it easier to get in and out of while creating a protective layer between you and the ground. 
While the ComfortStrong coil system provides extra comfort and long-lasting support, this mattress is easy and fast to inflate and deflate, making it the perfect pair for a camping trip. 
Battery operated pump, brilliant for on the go 
Steel frame cot which elevates you from the floor 
ComfortStrong coil technology for comfort
Has a sewn-in zip cover for added comfort 
Latest deal: Coleman Camping Cot Air Mattress
SleepLux Queen Air Mattress
best queen air mattress for everyday use
Wake up feeling renewed and refreshed, even after sleeping on an airbed with this mattress by SleepLux– it screams luxury! This 22-inch tall mattress provides strength, durability, and comfort all night long. 
One thing I love about this mattress is the features you get: it comes with a built-in pillow, built-in AC air pump, and even a built-in USB port for convenient charging on electronics. No need to struggle to find the nearest outlet to charge your phone anymore! 
That excellent night's sleep is right around the corner. 
This mattress's internal structure is made with Tritech material, which offers insane durability and strength while also allowing the mattress to stay in shape throughout the night, no matter how many times you've used it. 
This airbed was engineered for firmness; the 3 durable layers minimize air loss throughout the night. The premium material increases the internal stretch resistance and conforms to your body shape for unmatched comfort. 
But that's not all: this bad boy is ready to inflate in 5 minutes max; it is ready when you are. Plus, it gets a thumbs up for being quiet, no more disturbing other housemates or house guests. 
I know I left this one until last, but SleepLux is one of the best! 
Built-in pump and USB port for everyday use
Conforms to your body curves for added support
Stays in shape even after much use
Latest deal: SleepLux Queen Air Mattress
Best Queen-Sized Air Mattresses Buyer's Guide
Getting yourself a good quality queen-sized airbed will transform your experience: from improving comfort on camping trips to being able to hold up more guests with complete confidence of comfort.
With so many to choose from, it can be quite challenging to find one that will fit your purpose while also lasting a long time. We've all had our fair share of bad airbeds, from suffering from a bad back for a week after waking up on the floor as a result of the air bed completely deflating.
But after spending some time researching, trying out loads of different airbeds, I have finally found some that offer complete comfort, durability, and stability that you won't even believe you're sleeping on an airbed!
Whether you're an outdoor lover, looking for their next queen-size airbed to bring on your next camping trip, or looking for an airbed for everyday use, for guests and yourself, then I have selected the very best picks for you!
Let's break down all the features to consider to get the most out of your airbed.
Things to consider before buying a queen-sized air mattress
An air mattress can be a good investment if you buy the right one. Let's look at all the important considerations you need to remember before buying an air mattress.
Mattress Lifespan
Needless to say, the lifespan of a mattress has a considerable say in your choice of an air mattress. Generally, an air mattress can last from five to ten years, on average. A mattress's lifespan depends on the type of material used in it. An air mattress will usually last as long as other mattresses, depending on how frequently you use it or how well you take care of it.
Size
Like traditional mattresses, air mattresses come in different sizes. Before you buy an air mattress for yourself, you should consider whether it is compatible with your own size or not. You have the option to choose from different sizes, such as junior, small, twin, double twin, queen, full, and king.
When it comes to choosing the right size for a queen mattress, it is all about thickness. If you're looking to use this daily or for house guests, then I would recommend going for a thicker mattress; this will help support you much more and be much more comfortable than the flatter ones.
If you're looking to use this mattress on camping trips, I would recommend finding a balance between protection and comfort from the floor while ensuring it will comfortably fit inside your tent.
Type
Just like size, an air mattress is available in different types as well. While there isn't a formal classification for air mattresses, you can distinguish between them in terms of the materials used, sizes, features, forms and shapes, and purposes.
Some people like to use a large air mattress as a permanent replacement to traditional mattresses because of their additional height and distance from the floor. Other people prefer air mattresses because it gives them the option to adjust their beds' firmness according to their preferences.
There are air mattresses that come with self-inflating features and built-in pumps. You can also get a wide range of accessories, such as an inflatable headboard or a detachable backrest in mattresses.
On the other hand, some air mattresses specialize in providing users with comfort. These air mattresses use a material called memory foam, which is known for adjusting according to the weight exerted by the person sleeping on it.
Lastly, some air mattresses are specifically designed to be used outdoors and during camping. Therefore, they are easy to fit anywhere, and you can carry them on your back or lay it inside the tent.
Regardless of what you want, you can always find an air mattress that best addresses your needs.
Pump
One of the most apparent problems in early air mattresses was that they were difficult to inflate. When you are out looking for a mattress to buy, you should take note of whether the mattress comes with a pump or not. Some air mattresses are difficult to inflate, even though they have pumps. Therefore, it's important to buy an air mattress that has an easy-to-operate pump.
While some air mattresses give you the option to choose either a manual or automatic version, others have built-in pumps. With a built-in air pump, you will have an easier time carrying the air mattress outdoors.
Pillow Tops
These accessories are necessary for people who have extra weight. Heavy people need extra support from mattresses to sleep comfortably. Therefore, it is important to consider pillow tops before buying your air mattress.
Softness
Many people prefer air mattresses that are as soft as possible. However, too much softness can affect the durability of these mattresses and cause sagging on the surface. As a result, you may experience back pain and several other problems concerned with the middle spine area.
Thickness
The thickness of an air mattress determines how much support it can provide to users. If an air mattress is thin, the possibility of the user sinking in the bed increases. While this seems fun at first, it can make your sleep uncomfortable and your nights restless.
Inflation and Deflation
An air mattress's ability to inflate and deflate quickly determines how easy-to-use the mattress is.  Ideally, your air mattress should be easy to inflate or deflate, and a young adult should be able to do it even under minimal supervision.
Chambers
Chambers are that part of air mattresses where the air is stored. You should go for an air mattress that divides air equally among all of its chambers. Mattresses with more chambers are usually better.
Comfort level
Not all air mattresses are equal in terms of comfort. The comfort level of an air mattress tends to vary from one to another, depending on the purpose of the air mattress. However, there are four main categories of comfort in an air mattress. Ultra pillow top is regarded as some of the most comfortable air mattresses on the market.
Dial Settings
An air mattress's dial settings allow you to set the firmness of the mattress. Although one might want to get the most comfortable mattress, dial settings give you the option to use the mattress for diverse purposes.
Body Weight
Your body weight can help you set the ideal level of firmness of your air mattress. A person who weighs over 150 pounds (but under 200 pounds) can use the mattress on a firmness scale between 5 and 7. People weighing less than 150 pounds should set their mattresses to 5. However, people weighing more than 200 pounds should buy at least a 12-inch air mattress with a firmness level of 10.
Puncture Resistance
Ideally, your air mattress should be resistant to all kinds of punctures. It should be able to resist protruding objects to some level. However, deliberately testing the puncture-resistance with sharp objects is not a good idea.
Antimicrobial Surface
You must look for an air mattress that has an antimicrobial surface. Air mattresses with an antimicrobial surface prevent bacterial and fungal buildup. As a result, your mattress can last long.
Other Features
Before buying an air mattress, make sure to check its features. For example, does it come with features such as reinforced construction and two-layers? The first feature is essential for back support, whereas the second feature allows the air mattress to mimic a bed with a box spring.
Budget
The price of an air mattress can change depending on the size and features the mattress offers. However, you should know how much you can afford to spend on a mattress before selecting one. A higher price doesn't always translate into greater quality. Ideally, you should choose an air mattress that can address all your needs.
Warranty
The warranty of any product symbolizes how much a company trusts its own products. Generally, products that have greater warranties tend to last long. A longer warranty gives you greater peace of mind. However, it's important to read the terms and conditions of that warranty and note the actions that invalidate its warranty.
Frequently Asked Questions about Air Mattresses
How can I fill the air in my mattress?
Nowadays, most air mattresses are filled with the help of manually operated or electric air mattress pumps. To blow air into your mattress, you only need to attach the pump to the air mattress' valve and watch your air mattress inflate before your eyes.
How often should I fill the air in my mattress?
Generally, it's better to inflate an air mattress when you are about to use it. Your air mattress doesn't need to stay inflated all the time. If your air mattress has developed some leakage, then pump your air mattress with air whenever it feels uneven or uncomfortable.
How can I deflate my air mattress?
Most air mattresses have different techniques for deflating the air. Some air mattresses utilize their inflating pumps to suck the air as well. This feature can be convenient if you want to use the air mattress for camping. Before buying your air mattress, you should check whether the mattress pump has a deflate setting or not.
If the pump does not have the deflating feature, you will have to manually take out the air from the mattress. To do that, first, unscrew or unsnap the cap of the mattress's air valve. Listen for the sound of escaping air to confirm that it is actually losing air.
Next, remove your footwear and gently walk up and down the length of the mattress. After you have done that a few times, most of the air inside the mattress would escape. You can then start rolling the mattress from the end opposite the air valve.
This will help expel the remaining air in the mattress. After you have rolled out the air completely, return the mattress to its condensed shape with the mattress's bag or the available cord.
Summary
Now you know everything you need to know before buying an air mattress. You should take the time to look at all the features of each air mattress in detail before finalizing on a single option.
Although every option featured in this article is great, we advise you to buy the one that fits your needs.
I have selected the very best air mattresses to provide you with a great balance of comfort, stability, and longevity. I have also made sure to keep an eye out for the warranty as this is a good indication of how long it will last.
In terms of budget, it is always better to spend that little extra to get a better quality product that will last longer than constantly replace cheap ones.
We all deserve to reach the big Zs even when we're not at home. No more bad ache provoking, flat airbeds anymore!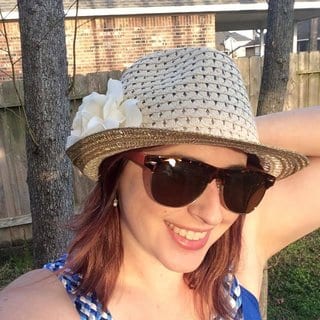 Head of Content at Sleepedia
ABOUT
Lauren is Sleepedia's Head of Content and is a certified sleep therapist who loves her sleep. Lauren helps people to get back to those deep, dream-filled nights they once had by helping to identify problems with their routine and sleep setup. Whether it's a mattress or pillow, Lauren researches the best products in the industry to provide you with an in-depth review of everything you need to know to encourage your buying decision.