Best Cooling Pillows [Review] in 2021
Last Updated on March 16, 2021
written by sleep expert Lauren Hall
See full list of products
Find the products quick - here are the review winners
Ever find yourself trying to fall asleep all hot and sweaty, and your pillow feels it's made of lava underneath your head, and no matter how many times you flip it and it feels like it's on fire again within five minutes?
You're not the only one that suffers from this issue, and it sucks.
We all want our head to hit the pillow and have a rush of cooling sensations– ahh, how great is that feeling? But I have actually spent 8 hours trekking through the wide web to hunt down the very best cooling gel pillows so we can get those big Zs while remaining completely cool.
There are three types of cooling pillows: traditional, natural, and memory foam, which usually come with gel inserts to keep you cool, but finding a memory foam cooling gel pillow that will actually keep you cool at night can be quite a challenge.
But no need to panic; I'm here to help!
To make things easier for you, I have combated this challenge for you. Only selected pillows thats will keep you as cool as a cucumber throughout the night without compromising comfort, stability, or price.
Here's a cool tip: To fall asleep, our core body temperature needs to drop 1ºc before we can reach our deep sleep stages, with a hotbed and hot pillow this can make it quite difficult, so by switching up for a cooling one, you will notice the difference in the quality of sleep even after the first night!
My top three picks are my favorite cooling pillows ever!
We've spent the time researching so you don't have to:
Best Cooling Pillows Review
WEEKENDER Ventilated Gel Memory Foam Pillow
Looking for a memory foam option without the heat? Well, The Weekender may well be your best fit! It uses soft yet supportive CertiPUR US-certified memory foam infused with temperature-regulating gel for a more comfortable sleep.
Unlike other memory foam, it is not only infused with temperature-regulating gel for more comfortable sleep conditions, but the ventilated design maximizes air circulation to promote a cool environment to sleep in.
The gel adjusts to your body temperature as it changes to keep the cooling sensation going. Plus, the pillow is covered in spandex mech, making it easy to clean and machine washable; you will have the freshest night sleep that you could ever dream of. 
But that's not all: 
The honeycomb shape allows for better ventilation while cradling and supporting your neck, the memory foam stops these pillows from going flat as they will spring back into place, plus the cooling gel will keep you extra cool throughout the night.
This cooling pillow is brilliant for the back, stomach, and side sleepers. Plus, with a 3-year warranty and 30-day guarantee, you can't beat it, and it will seal the number one spot every time! 
This will work for front sleepers too
You can have the feel of a memory foam pillow without the heat
Ventilated design, infused with cooling gel
Latest deal: WEEKENDER Ventilated Gel Memory Foam Pillow
Coop Home Goods - Eden Shredded Memory Foam Pillow
best cooling pillows for hot flashes
Hot sleepers look no further than the Coop Home Goods Eden Shredded Cooling Pillow; your search for the perfect adjustable, cooling pillow has come to an end– this one is the best of the best in the industry. 
Their soft, gel-infused memory foam and microfiber fill blend allow for a cooler sleep and edge-to-edge support. It has never been more accessible either! You can access the memory foam fill, add and take away to suit your size, shape, and sleeping position. 
In terms of quality, Coop is one of the best– they are CertiPUR-US, and GreenGuard Gold certified to ensure safety and quality, no more harmful chemicals! Plus, it gets a thumbs up from me for being vegan and cruelty-free. 
Now, here's the best bit:
This cooling pillow is made with propriety Lulltra fabrics, a blend of bamboo-derived viscose rayon and polyester that guarantees breathability and softness. Plus, it is made out of repurposed materials to help the environment– tick tick tick! 
Does it get any better than this? Well yes! It comes with a 100-night guarantee. If you don't fall in love within the first 100 nights, then you can return it with a full refund. Plus, they also offer a 5-year warranty so you can order with complete confidence!
Vegan, cruelty free and made out of repurposed materials
100 day guarantee plus 5-year warranty 
Infused with cooling gel and complete adjustability 
CertiPUR-US and GREENGUARD Gold certified to ensure safety and quality
Latest Deal: Coop Eden Shredded Memory Foam Pillow
Tempur-Pedic TEMPUR Cloud Breeze Dual Cooling Pillow
Now I know memory foam can make you heat up during the night but this is another excellent option for my hot sleepers! The gel layer on both sides of the cooling pillow will not only keep you comfortable but cool throughout the night.
This signature Tempur cloud breeze dual cooling pillow adapts to your head, neck, and shoulders for individual comfort throughout the night, it is also ideal for all sleeping positions and the cooling properties get a thumbs up–– this is perfect for anyone!
But there's more:
The Tempur Cloud cooling pillow comes with a removable and washable cover that is soft and breathable as well as easy to remove for washing. So, not only is this pillow brilliant for hot sleepers but if you suffer from allergies then you need this pillow!
To top it all off this cooling pillow is also super durable and reliable, it will never lose it's the shape and will offer superior support and alignment of your neck, head and shoulders for years to come. It even helps relieve pressure headaches!
Softer than most memory foam designs 
The gel stays cool well throughout the night 
It's one of the few designs that are hypoallergenic
It's tall enough to provide good neck support without being obnoxious
Too low for side sleepers 
Latest Deal: Tempur-Pedic TEMPUR-Cloud Breeze Cooling Pillow
Beckham Hotel Collection Bed Cooling Pillows
Looking for a cooling pillow that will make you feel like you've just woken up in a 5-star hotel every single night? Well, this cooling pillow is top of the range for comfort and temperature regulation while being at an affordable price point.
It is made out of a 100% super plush cotton material with gel-filled fibers that put other standard pillows to shame. They are tailored to offer maximum comfort for all sleeping positions– you heard me back, stomach, and side sleepers welcome!
They are stylish, luxurious, and not to mention super comfortable with their non-shift construction. Plus they're both fade and stain-resistant, so you'll never have to worry; just chuck them in the machine, and they'll be good as new.
Here's the kicker:
The extra loft design provides superior comfort and support for stress, back pain, and other aches and pains. Plus, the breathable cotton and cooling technology regulate temperature for a cooler night's sleep like no other.
This cooling pillow holds its shape and supports your head while being super soft and comfy. If you roll around like a pig in mud during the night, you don't need to worry either, as it works in every position! You will notice your quality of sleep will massively improve.
5-star luxury at an affordable price point? Yes, please! 
Breathable cotton and cooling technology to regulate temperature 
The gel fiber allows for maximum ventilation inside the pillow 
Non-shift construction and works with any sleeping position 
Latest deal: Beckham Hotel Collection Bed Cooling Pillow
Casper Sleep Cooling Pillow
Looking for a plush, comfy, yet cooling pillow to add to your bed? Well, look no further than Casper Sleep. With the unique pillow-pillow design that's built to satisfy all sleepers with their different fill types.
I personally love their standard pillow; it is made with 100% cotton and features a breathable percale weave to increase airflow and ensure a cool night's rest every night. 
It is an innovative pillow-in-pillow design that is packed with microfiber fill to provide both support and comfort. Plus, the outer layer is easily removable for easy cleaning; it is machine and dryer safe too. 
But that's not even the best bit:
It provides better neck alignment thanks to its evenly distributed fill. It is also resistant to clumping, just a quick fluff up, and it will be good as new! 
We all move in the night, toss and turn and switch positions but lucky for you; this pillow is designed to be comfortable in any position, so no more waking up trying to get comfortable and just off to a restful night's sleep.
You will notice the difference in your sleep even after the first night!
100% cotton with a breathable percale weave to increase airflow
Perfect for any sleeping postion 
Microfiber fill to provide comfort and support
Latest deal: Casper Sleep Cooling Pillow
Best Cooling Pillows Buyer's Guide
Now the best cooling pillows provide you with a restful, uninterrupted sleep that we all crave. Choosing the right pillow will not only transform the environment you're sleeping in but will also improve your overall sleep quality.
In order to fall asleep our body needs to drop 1ºc in temperature, in order to reach the deep sleep stages and in a super hot environment this can be extremely difficult, something as simple as switching up your pillow can make the world of difference.
If you're prone to night sweats, waking up in the middle of the night as a result of this is hell, soaked pajamas and feeling all hot and flustered isn't something we want, this is why I'm going to break down the best cooling pillows that will actually make a difference!
Let's jump in:
What is a Cooling Pillow?
A cooling pillow circulates airflow, regulates temperature, and prevents heat retention by providing a cool sleep surface. They are designed to draw heat away from your body, wick away moisture, and often a more breathable design.
Choosing a cooling pillow is a great first step but also sleeping in a cool bedroom also helps; they recommend you should keep your bedroom around 65ºF in order for your body to regulate core temperature.
Our circadian rhythm focuses on core body temperature, and in order to fall asleep, our body needs to drop 1ºc in temperature; this also allows for more melatonin to be produced in order to fall asleep.
Sleeping in a cool environment is crucial for our body to reach these deeper sleep stages and allow us to feel well rested.
What to Look for in a cooling pillow:
Before buying yourself a cooling pillow, there are some key things to check and look for. The main purpose of a cooling pillow is to draw heat away from the body, and certain materials are better than others.
It is also down to your own personal preference as what works for you may not work for your partner or someone else. Any pillow but especially a cooling pillow should relieve pressure from your head, shoulder, and neck, and you should feel supported and comfortable.
Comfort and support are crucial factors to consider as well as cooling properties, so when you choose yourself a cooling pillow make sure it ticks off all or most of the requirements you need from below:
Cooling Properties:
Now, this is the most important factor as it's the main reason you've come to this page, and the cooling properties are the top thing to check before you click to buy. The cooling properties determine how effectively that pillow will regulate your body temperature throughout the night. It will also determine how well it can draw away heat from your head for you to feel cooler.
Cooling pillows will either attempt to draw heat away from your body or encourage airflow to keep you cool throughout the night. Materials like gel, graphic, copper, or phase-change materials are all conductive materials that will aim to pull heat away from your body.
You will notice this more in memory foam as memory foam tends to heat up a lot more and needs a conductive to keep it cool throughout the night.
The more breathable materials such as wool, cotton, and bamboo will help regulate body temperature throughout the night. They will do this by wicking away sweat and moisture and providing a breathable air environment to circulate and prevent heat retention.
Pressure Relief
You should also consider the support and comfort you will get out of the pillow, along with cooling properties. Pillows are designed to support your head, neck, and shoulders to relieve certain pressure and pains.
Pillows are also designed to conform to the shape of your head, neck, and shoulders to keep your spine aligned; latex and memory foam are brilliant for pressure relief.
Sleeping Position: 
This is another crucial factor to consider when buying yourself any pillow, not just a cooling one. The position you sleep in will determine the firmness and loft you'll need out of a pillow. 
For side sleepers, you will want to look for a pillow with a higher loft that will fill the space between your neck and shoulders; this helps to keep good posture while you sleep, reduce pressure, and keep your spine aligned.
For back sleepers, I would recommend looking for a pillow that will maintain your neutral posture, you don't want a pillow too high and your head tilted too far forward; you want one that's level and comfortable.
For stomach sleepers, you should look for a pillow designed for sleeping on your stomach; these are often a little bit thinner to keep your head and neck comfortable. 
Firmness Level: 
This one is mainly down to preference, but it is also based on the amount of support you need. For a cooling pillow, the most popular is medium-firm to medium soft. Materials such as latex and foam will be much firmer than wool, down, or shredded memory foam. 
However, with pillows like Coop, you can have the option to add more or take away some of the shredded memory foam to suit you, so if you want it that just a little bit firmer or a little bit softer, you have the option. 
Your sleeping position often determines the firmness you need, but it can also come down to your own personal preference.
Loft: 
You may be wondering when I talk about the pillow's loft as to what it actually means– it is the height of the pillow. Cooling pillows often have a medium to high loft, but with some brands like Coop, you have complete accessibility and adjustability to height. 
A higher loft is best for side sleepers, stomach sleepers may benefit from a low loft, and back sleepers may prefer a medium, but it is down to personal choice. 
Materials:
The quality of material often determines the pillow's lifespan; high-quality materials will mean that the pillow is more durable and lasts a longer period of time. 
Latex and foams offer shape retention and support, and cooling pillows often last longer as they're made out of quality materials.
Price:
Besides buying anything, budget is always key, but finding a pillow that will last you a long time is also crucial. Pillows come in a range of different prices, but to get a high-quality pillow, I would spend no less than $50 and no more than $150.
The price is also determined by the quality of materials too.
What Materials are the Best Cooling Pillows made out of?
There are different materials that come into play when it comes to cooling pillows; both the fill and the cover are designed to regulate temperature and dissipate heat. Some are conductive and draw heat away from the body, while others are breathable and aim to circulate airflow and regulate body temperature.
Here are all the options up for grabs:
Memory foam: 
Memory foam pillows on their own often make you feel hotter throughout the night as people say that sometimes they retain heat. But memory foam is a viscoelastic polyfoam that actually responds to heat and pressure relief for your head, neck, and shoulders.
If you're looking for cooling memory foam pillows, I would recommend going for one that is open-cell, one infused with cooling gel or copper, or even one that is shredded. This will help give you the support and comfort of a memory foam pillow but allow a regular one's coolness.
Latex:
Latex is made from rubber tree sap and collected using two different methods: the Dunlop or Talalay method. Dunlop latex is usually much denser, heavier, and often offers a more resilient fill, whereas Talalay offers a homogenous and breathable result which helps with pressure relief and cooling.
Latex is known to dissipate heat and circulate airflow and therefore makes brilliant cooling pillows.
Gel or Copper:
Gel and copper are highly conductive materials that pull away heat from the body. They are most commonly added to foam as they will retain heat much more than any other material. Gel has a cool feel, whereas copper is more antimicrobial.
They both work to reduce the amount of heat from building up in the pillow, but they can be quite pricey.
Buckwheat:
These pillows are made using the shells of a buckwheat grain; they have an open shape and create air pockets in the pillow to reduce heat build-up and circulate airflow.
They are often a bit noisier than other pillows and have a natural odor, so they will take some getting used to, but they're both flexible and supportive.
Wool: 
Wool is collected from lambs and sheep, and thanks to its natural fiber and crimped shape, it offers a high loft and extensive amount of airflow. It wicks away moisture and pulls away heat from your body in the summer but retains heat in the colder winters.
It provides temperature regulation all year round.
Down Alternative: 
The last option is a down alternative made out of polyester or synthetic fibers that provide the feel of down. It is a vegan alternative to down and is less likely to retain heat as much as down would. It is also a much more affordable option to down.
What about the Cover Materials:
Cotton: 
This is often the most common and popular cover you will find on cooling pillows as the natural cotton fibers are soft and breathable. They vary from short-staple to extra-long staple. Prima and Egyptian cotton are extra-long-staples and are often sot and breathable.
Cotton is also excellent for wicking away moisture and providing a cooling feel; they're most common in pillow covers and duvet cover as they're breathable and easy to clean. 
Bamboo:
Bamboo is often a much more sustainable option that's better for the environment, plus their natural fibers are brilliant for wicking away moisture, and they're super breathable. It promotes increased airflow to the pillow and a much more sustainable option for the rest. 
Phase-Change Material:
Phase-change materials control temperature by regulating the body heat; they change from a liquid to a solid-state to regulate the temperature to keep heat away from your body.
Frequently asked questions about the best cooling pillows:
Should I use a pillowcase on my cooling pillow?
This is is massively down to preference, it may reduce the amount of coolness you will feel on your head, but that being said, if you use a cooling pillowcase, it should dissipate heat and keep you cool while preserving your pillow.
Do memory foam pillows make you hot?
Many people say that memory foam tends to trap heat and make you hot throughout the night; there are ways to still have the comfort of a memory foam pillow without the heat. For example investing in a shredded, ventilated or even one infused gel or copper to promote breathability and draw away heat from your body.
If you get really hot during the night, I would recommend trying other options instead of memory foam.
How do I keep my bed cool?
Once you've found yourself a cooling pillow, I would recommend getting yourself a cooling mattress topper or pad as well to promote that air circulation even further and to the rest of your body. Check out my top picks here.
Conclusion On Cooling Pillows
The best cooling pillow has to be the Coop Eden Shredded Memory Foam, as you're getting a cooling and supportive shredded memory foam design that has gel inside and outside for maximum cooling.
It's not going to clump up like fiber-filled pillows, and it's not going to feel like brick-like solid memory foam. It may take some getting used to from standard pillows, but it's much cooler overall and will keep you supported for a good night's rest.
We all deserve to feel cool, comfortable and achieve the big Zs every night, and choosing a cooling pillow is the best place to start.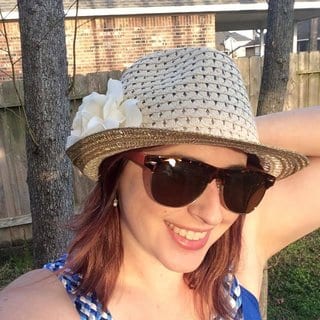 Head of Content at Sleepedia
ABOUT
Lauren is Sleepedia's Head of Content and is a certified sleep therapist who loves her sleep. Lauren helps people to get back to those deep, dream-filled nights they once had by helping to identify problems with their routine and sleep setup. Whether it's a mattress or pillow, Lauren researches the best products in the industry to provide you with an in-depth review of everything you need to know to encourage your buying decision.