Best Mattress Topper For Hip Pain [Review] in 2021
Last Updated on March 19, 2021
written by sleep expert Lauren Hall
See full list of products
Find the products quick - here are the review winners
If you've ever suffered from hip pain I'm sure you know how much of a pain and impact it has during the day and no medications seem to help. But have you have thought about how much of an impact your mattress may be having on your back pain? 
Yes but not sure how? Let me tell you more.
We often forget that our sleeping environment makes a big difference in relieving pain and pressure points, a supportive makes a world of difference for aches and pains. But getting a new mattress isn't always as budget-friendly as you may think.  
This is where I introduce you to the world of mattress toppers, they're a great alternative and friendly on the ol' wallet. I have hunted through 57 mattress toppers and specifically selected the best for hip pain, factoring down to my top 6 picks!
But wait, there's more:
To make life easier for you I have considered all the crucial factors in my search for the best mattress toppers for hip pain; factoring different firmnesses, material sizes as well as different budgets. 
Here's a crucial tip: when it comes to relieving bodily pains we need to be looking for a mattress topper that is firm enough to support your body but not too firm that it won't relieve pressure points. I would recommend memory foam as it conforms to your body's shapes and curves to effectively relieve aches and pains. 
But enough of me rambling; let's dive into the best mattress toppers for hip pain!
We've spent the time so you don't have to:
The Top 6 Best Mattress Topper For Hip Pain
LUCID 3 Inch 5 Zone Lavender Memory Foam Mattress Topper
Now let me introduce you to my favorite lavender mattress topper by Lucid. It is substantial yet affordable to any bed that feels too firm or doesn't relieve your hip pain like it used to. 
Lucid offers five convoluted zones to help relieve pressure at different points of the body and to also prevent tossing and turning. These zones of comfort are especially brilliant for relieving hip and back pain as it conforms to your body to provide ultimate pressure relief.
This mattress topper will relieve aches and pains from your head to the tips of your feet.
Lucid is made from memory foam which offers efficient conforming capabilities, this is essential for hip and back pain. Memory foam offers unique conforming and will conform to all your individual curves and shapes to provide you with ultimate support and comfort. 
They also offer 2 or 3-inch options for complete preference. The 2-inch configuration is ideal for those that prefer a lighter and more supportive sleep experience, the 3-inch profile offers that extra plush features.
Here's the best bit.
The only thing worse than hip pain is sleeping hot which is why Lucid offers both a calming lavender infusion and cooling gel option. The lavender is designed to relax your body and the environment while the gel option dissipates heat to regulate body temperature. 
Plus the design of this mattress topper is textured and offers sufficient airflow, which is brilliant in memory foam as memory foam is known for sleeping fairly hot, not anymore with their textured design and gel infusion option. 
For a cool, pain-relieving, and relaxed night's sleep, Lucid is worth every cent!
Provides extra comfort to the body from head to toe.
This mattress topper is very budget efficient
Support those with hip and back pain or spine alignment issues
5 convoluted zones for pressure relief 
This is limited to international shipping but in some countries
Latest deal: LUCID Lavender Memory Foam Mattress Topper
ViscoSoft 3 Inch Memory Foam Mattress Topper
best mattress topper for side sleepers with hip pain
On my list, coming in hot is ViscoSoft, with their gel-infused memory foam topper that's engineered to optimize airflow, relieve pressure, pain and reduce trapped body heat. For hip and back pain this mattress topper is one of the best.
Their breathable, well-ventilated design distributes body heat evenly to improve comfort while you sleep and helps you feel more rested when you wake up in the morning.
In terms of comfort, this mattress topper is unmatched; they improve comfort by aligning your spine, helping to relieve common pressure points and pains such as hip and back pain, while preventing you from sinking into the foam.
This will give you the best sleep you'll ever get!
Not only does this mattress topper save you money, but it also prolongs the life of your mattress while awarding you the quality of sleep you deserve.
ViscoSoft has researched and tested its design to ensure it delivers maximum comfort and restful, uninterrupted sleep for the whole night. Just by using this topper, you will notice the difference in pain relief and the quality of sleep.
If hip pain is worsened by a poor mattress you will notice the difference after the first night! You will wake up feeling refreshed with a spring in your step, ready to start the day, you and your bed will feel as fresh as a daisy. 
Reduces the body pressure and gives the spines also the body proper support
This has very well washable and removable cover
Ideal for side sleepers as you don't sink in the foam
Reduces body heat so the body gets the proper rest at night lying on this topper
Latest Deal: ViscoSoft 3 Inch Memory Foam Mattress Topper
Tempur-Pedic TEMPUR Supreme 3-Inch Mattress Topper
Tempur Pedic is massively renowned for its pressure-relieving mattress range, but what about its mattress toppers? Well, just like their mattresses, their mattress toppers are also made out of memory foam for conforming support while you rest.
Their mattress toppers are designed with the same pressure-relieving TEMPUR material that is loved in their mattresses; this 3-inch memory foam mattress topper conforms to your body to relieve hip and back pain for a more restful night's sleep.
Tempur Pedic's TEMPUR material not only conforms to your body for pain and pressure relief but it responds to your body's temperature, weight, and shape for precise, personalized support and comfort.
But that's not all:
You can not only say goodbye to hip and back pain but also say goodbye to dirt, dust, allergens, and dust-mites with their machine washable cover. Convenience is such an important factor when it comes to a fresh, rejuvenating, and pain-relieving sleep.
This mattress topper is perfect for your bed to relieve hip pain, but why not use one in the spare room, too, or even for the on-the-go? This mattress topper will relieve hip pain wherever you rest.
TEMPUR foam is much more durable than your average memory foam topper, their proprietary material is designed for years of long-lasting comfort and pain relief, it won't let you down!
TEMPUR conforming memory foam
Excellent for pain relief
Durable and reliable, will provide years of comfort 
Off-putting smell for a while after opening
Latest Deal: Tempur-Pedic TEMPUR Supreme 3-Inch Mattress Topper
Sleep Innovations 4-inch Gel Memory Foam Topper
The Sleep Innovations 4" Dual Layer Mattress Topper is a high-quality product renowned for its two-layer design and 4-inch thickness; it is brilliantly designed to relieve pressure points and pains like hip pain. 
The comfort layer is very plush and soft and provides a cloud-like feeling over the firmness of the topper's SureTemp memory foam layer. The memory foam itself is infused with gel to dissipate heat and offer a cooler night sleep as well as unmatched support.
The mattress topper's thickness makes it slightly on the soft side, but it still offers a decent amount of firmness for those with back pain, making it a good compromise if you share the bed with someone who prefers less firm bedding.
It has a great pressure system that evenly distributes weight and reduces pain in key areas. It's great for sleepers in all positions. Its added thickness means it provides even more support, and it ensures head-to-toe contouring.
As if that's not enough!
It is dust mite resistant and relatively easy to clean, with a removable cover that is machine washable. Still, I would recommend investing in a waterproof sheet to prevent the risk of accidents.
This topper does come at a higher price than most due to its unique composition. I it's a solid choice for those with hip or back pain, who want supreme comfort that offers the extreme luxury of a 5-star hotel every single night. 
Medium-soft topper suitable for hip and back support
Gel layer neutralises body heat
CertiPUR-US certified so guaranteed high-quality materials
Heavier than most mattress toppers
Latest deal: Sleep Innovations Gel Memory Foam Mattress Topper 
Pure Green 100% Natural Latex Mattress Topper
The brilliantly natural and perfectly comfortable & cozy condition that your body dreams of while sleeping can be achieved by this Pure Green 100% Natural Latex Mattress Topper. It will add additional softness to the surface of any mattress. 
Latex mattress toppers are an excellent and very popular option for relieving back and hip pain; it offers the comfort and support you need while being durable and breathable. Pure Green is a brilliant natural alternative to any other mattress topper.
Not only is this mattress topper made out of 100% natural latex, but it also carries internationally recognized health and environmental certifications and meets all the performance standards you should expect. 
This Soft Topper is one of their most popular firmness out of their collection; it adds softness but also offers enough support to feel like you're not sinking into the mattress; it is ideal for side sleepers stuffing with back, hip, and shoulder pain as a result of a too firm mattress.
Want something a little firmer? They also offer medium and firm versions too!
You can also choose your preferred thickness; they offer 1, 2, and 3-inch toppers. This is brilliant as it will help support different sleeping positions so that you can have effective spinal alignment and ultimate comfort. 
But here's the best bit:
Latex mattress toppers are an excellent alternative if you don't want to opt for a memory foam option; going for natural latex is also a much healthier option too; I absolutely love the feel of this one.
This topper will maintain contoured support throughout the night and will keep body heat neutral. It won't absorb body heat or change firmness throughout the night. It will improve your sleep even after one night. 
It is soft with medium firmness
It provides a well balanced supporting surface so that you can sleep easy
It is a great choice for side sleepers
It is extremely soft, which is ideal for people with hip and back pain
It is a slightly higher range of price than the normal low costing toppers
Latest deal: Pure Green 100% Natural Latex Mattress Topper
BedStory 3 Inch Memory Foam Mattress Topper
Now, this BedStory Memory Foam topper is designed to align your spine by conforming to your body's shape; it will help to relieve all pressure points and reduce the hip and back pain you feel, so you'll wake up feeling more refreshed than ever. 
Some memory foam toppers will make you feel like you're being swallowed, but with this one, you can roll around with ease; if you don't have the cash for a new mattress, then this one is an absolute lifesaver for hip pain.
Even after one night, you will notice the difference in the pain relief in your hips, back, and even shoulders.
Find yourself getting hot in the night? No problem, this mattress topper has ventilation holes that provide an enhanced level of heat dissipation so that you can have a cool night's sleep. 
Memory foam has excellent benefits in relieving hip pain. Still, it can be a tricky task for some hot sleepers to find one that suits you, but with BedStory, their design will regulate temperature while still providing you with ultimate support– it's the best of both worlds. 
But that's not even all of it: this hypoallergenic cover can be easily removed to be washed, so say goodbye to dust mites and pesky bacteria caused by sweat; you won't have that issue anymore. 
This mattress has glowing reviews for the benefits it has for back pain, and I'm not surprised this one is an absolute winner. It will align your spine and relieve pressure points and pains in your body, causing your aggravation– it's unbeatable!
It is soft with medium firmness
It provides a well balanced supporting surface so that you can sleep easy
It is a great choice for side sleepers
It is extremely soft, which is ideal for people with back pain
It is a slightly higher range of price than the normal low costing toppers
Latest deal: BedStory 3 Inch Memory Foam Topper
Best Mattress Topper For Hip Pain Buyers Guide
Now that you have seen all 6 of my top picks, we are keen to see which one of them is the most appealing to you. This may not be an easy choice. Various aspects need to be given some consideration.
Take your time, by all means. You would probably have come across some things that are completely new to you while reading the reviews. This makes things a bit more complex. My buyer's guide is designed to help with confusion and answer all your questions.
I have taken time to explore key questions that are often posed regarding mattress toppers so you can rest assured that you're getting the very best for your hip pain. Often those who suffer from hip pain also suffer from back pain too, and that's why I have selected the best mattress toppers for the two.
I have broken everything down to make choosing a mattress topper a hell of a lot easier, so you can select any and get back to a restful night's sleep once again.
Let's jump into everything you need to know to relieve hip pain while you sleep.
How do you know if your bed is too firm?
Most of us are too accustomed to accepting our beds and mattresses the way that they are. We work on the faulty premise that if they are sold, the manufacturers must know what is best. The truth is that these beds are not designed with everyone's needs in mind.
As a result, there is no one size fits on when it comes to beds. The desire to get better performances out of our beds is one of the things that are fuelling the growth of the mattress topper market share.
Perhaps you are now wondering how one can figure out whether or not their bed is too firm? It will come down to purpose. Your bed is designed to deliver support and comfort. No one would doubt that a firm bed would give you enough support.
It may lack on the comfort side of things, but this is is not to say that going too soft does not come with its own issues.
A mattress that is too soft will mean that your body does not receive enough support. This can be just as bad for your back as the firm one is for your joints.
What you are looking for is a balance of the two. There are a few things that you can look out for. If your mattress does not sink slightly under the weight of your body, it is too firm.
No matter how light you are, your mattress should give way to your body. This ensures a more comfortable sleep and less pressure on your joints.
If you find yourself experiencing pain on the side that you sleep on, chances are that your mattress is too hard. A good mattress will support your body just enough to cushion it.
Side sleepers would generally want to have a mattress that is softer than the one that a back sleeper would require. This is because the back sleeper has the support of their skeleton and spine. It can take more pressure than the side can.
Let's talk about everything you need to consider in more detail.
What to Consider When Buying a Mattress Topper for Hip Pain:
Many manufacturers say that their mattress topper is pressure relieving and eases comfort, but this doesn't mean they're perfect for hip pain. So here are a few things to consider before you click to buy:
Contouring:
Body contouring is significant for those who suffer from back and hip pain. This is because there is more weight distribution in your hips while you rest; pressure does tend to build up in this area when you lie down.
Getting yourself a topper that contours around your body's shapes and curves is an important factor to consider as it helps distribute body weight and relieve pressure while you sleep. Memory foam and Latex are brilliant for their contouring capabilities.
Sleeping Position:
Your sleeping position may say a lot about your aches and pains within your body. It can also influence hip pain and influence what topper is best for you.
Side sleeping can intensify your hip pain if you're sleeping on an unsuitable mattress; the same goes for stomach sleeping. Side sleepers may prefer a thicker, softer topper to tackle the pain, while stomach sleepers may want a thinner, firmer option.
We will dive into this in more detail in a little while.
Firmness Level:

Just like your sleeping position affects your hip pain, so does the firmness of your mattress. A too-firm mattress may be the root of your hip pain problems. Finding the right firmness level will provide you with the right support while offering a comfortable night's sleep.
A topper that is too firm will cause pressure to build up around your hips and shoulders, whereas one that is too soft will cause your hips to sink and not provide the support you need to relieve the pressure; it could cause lower back pain and hip pain.
Again, the firmness that is best for you will all depend on your sleeping position, weight, and preference. Those that weigh slightly heavier may benefit from a firmer mattress topper to prevent sinking.
Pressure Relief
This is arguably the most important factor to consider when looking for a mattress topper for back and hip pain relief; in most cases, hip pain is caused by pressure build-up due to sleeping on a poor mattress.
Pressure relief is mainly found in mattress toppers with contouring features, such as memory foam or latex. It allows your hips to sink into the mattress a little bit but not too much that it doesn't support your joints.
Conforming mattress toppers are brilliant as they help massively with pressure relief as it helps reduce the accumulating pressure in your hips, back, neck and promote spinal alignment.
Thickness
Thickness is another indicator of the firmness of the mattress. You will often find that mattress toppers range from as thin as 1-inch to as thick as 4 inches; the thicker the mattress, the more support it will provide.
You will find in memory foam and latex mattresses that they are thicker because of the body contouring features. It needs to be thick enough to provide support and contour around all your shapes and curves.
Hip pain is often aggravated by a mattress that is too soft or too firm; if your mattress is either of these, then you may benefit from a thicker topper, but if you're looking for only a little extra support, then a thinner option may be up for the job.
Cooling Properties:
If you tend to sleep hot, then I would recommend getting a topper that has cooling properties. Now I know memory foam sometimes sleeps hot, but it is the best possible pain relief option; you can also get gel-infused memory foam or memory foam that has a ventilated design to promote airflow. 
The best mattress toppers for hip discomfort and pain relief often conform closely to your body which causes heat build-up. Gel-infused memory foam tends to dissipate this heat, while ventilated designs promote efficient airflow and temperature regulation. 
Latex is often less hot than memory foam which makes it another excellent option. 
How Does Your Sleeping Position Affect Hip Pain?
Your sleeping position may be directly linked to the pains in your hip and lower back. This is because sleeping in certain positions can put build-up pressure. This is why finding a mattress topper best suited for your sleeping position is crucial for a good night's sleep! 
Side Sleepers
The best pain relief mattress topper for side sleepers has a good balance but also allows your hips to sink to the topper comfortably to relieve pressure points. 
If your mattress is at an almost ideal firmness but doesn't quite have the right level of contouring a thinner mattress topper will do you nicely, but if your mattress is too firm then a thicker mattress topper will provide you will the support you need and allow your hips more room to sink into. 
A medium/firm topper is best for side sleepers but you should also take weight into consideration. If you weigh less than 130 pounds then a softer option would be better but if you weigh more than 230 pounds then a firmer option may be better so you don't sink into the foam.
Back Sleepers:
For back sleepers, you should look for a topper that promotes a healthy spinal alignment while also cradling your hips and supporting your lower back. Again a medium firmness will be ideal for most sleepers but it is all down to weight. 
Again if you weigh more than 130 pounds then a softer option may be better and those who weigh 230 pounds may prefer a firmer topper to prevent them from sinking into the surface. 
Stomach Sleepers:
For hip and back pain stomach sleeping may not be the best option, this is because it adds weight to the sleeper's abdomen and put a strain on your hips and back. This most often causes discomfort in your lower back but it can cause discomfort in your hips and neck too. 
Sleeping on your stomach puts your spine in an awkward position which often leads to issues within your back and hips. Stomach sleepers would benefit better from a firmer topper to prevent unnecessary sinkage.
Some stomach sleepers may also benefit from a thinner topper so they don't sink too much but still feel the support of the mattress underneath.  If you're a stomach sleeper and notice hip and lower back pain frequently then a mattress topper may help relieve the pressure. 
How to store mattress topper the right way
Unless the manufacturers say otherwise, there is no one way to store your mattress topper. The only guideline is that you would want to ensure that it remains cool and dry. Most of our homes would naturally tick this box no matter where you put it.
If you live in a place that is particularly humid or one that sees a lot of rain, you may want to ensure that your mattress topper is stored in a vacuum bag. This will keep all the moisture out. There is nothing more annoying than finding that your mattress topper has grown some mold.
The first step in this process will depend on the size of your topper and the airtight bag that you will be using. You may need to fold your mattress topper to get it to fit into the bag. It can be folded in half and then rolled up.
Once it is rolled up, it should be very easy to place it into the storage bag. You can then use a household vacuum cleaner to suck the air out of the bag. Make sure that your hands are grabbing the area where the vacuum is entering the bag.
A seal is formed to ensure that no air flows into the bag while you are doing this. This will remove any excess moisture from the bag and prepare it to be stored. Avoid sucking the topper.
You can do this by getting someone else to hold it while you suck the air out. Once all of the air is out, you can seal the bag. If your bag does not have a sealing mechanism on it, you can use some tape.
Frequently Asked Questions:
Here are some of the frequently asked questions about the best mattress toppers for hip pain:
Is a soft or firm mattress toppers better for hip pain?
Both soft and firm options are appropriate for hip pain, but it all depends on your weight, sleeping position, and the firmness of your existing mattress underneath.
For those that weigh under 130 pounds, you may benefit from a softer model as it will provide the support and comfort you need for your weight, whereas those who weigh over 230 pounds may benefit from a firmer mattress to prevent sinking.
Can a mattress cause or worsen hip pain?
In most hip pain cases, it may actually be caused by a mattress that is unsuitable for you. If your mattress is too firm, pressure can build up around your hips and lower back and cause discomfort; however, if your mattress is too soft, it may not provide enough support and will cause your muscles to tense to align your spine effectively.
If you find your pain fades during the day, that may be a strong indication that your mattress is the problem. Getting a mattress topper will make a world of difference but knowing when to replace your mattress is critical in relieving discomfort.
Sagging and dents in your mattress will reduce the amount of support your mattress provides and may trigger hip pain. A mattress topper can add comfort, but it cannot repair a broken or sagging mattress.
If this is the case, then getting a new mattress may be the way to go.
What causes hip pain while you're sleeping?
A mattress that isn't right for you may be the top cause of your hip pain, but a wide range of medical conditions can contribute to your hip discomfort. These could include arthritis.
If you have arthritis and your mattress is causing you issues, I recommend consulting a doctor before buying your mattress topper for recommendations.
What is the best mattress topper for back and hip pain?
There is no specific mattress topper that is best for hip and back pain, but some other materials are better than others. For example, memory foam or latex is probably the best material for pain relief because of the conforming features. 
Both memory foam and latex relieve pressure points; they contour your curves and allow you to sink enough to feel comfortable but still supported. They also allow for effective spinal alignment, which is crucial while you sleep. 
Mattress topper under an electric blanket
Before using your mattress topper with an electric blanket you want to ensure that it is heat tolerant. Electric blankets keep us warm by producing heat. It is not a lot of heat, but not everything can take it.
Make sure you refer to your mattress topper's instruction label, what you are looking for is a heat warning. It may be the heat that it can be washed if yours is can be cleaned in a washing machine. If you are not sure, it is better to not take the risk.
This can be a fire hazard. You can also check your electric blanket to see what sort of temperature it produces on the settings that it has. It may be a case of then using lower settings with the topper. You can progressively increase them as you see how well it is coping.
Final Thoughts
We have now considered all of the mattress toppers that we found to be great at alleviating hip pain. Hopefully, you have had the chance to read each of the reviews that were written about the toppers.
These will give you a great perspective of what we liked about each of them, as well as some of the things that we did not like. Knowing all of this will help you reach an informed decision. You may find that the one that you end up choosing is not the one that we went with.
That is fine, preference is a great thing.
After all, you will be the one that is going to use it. Get something that you will be delighted with. My buyer's guide would have also provided you with additional value.
This is in the form of tackling some key questions that you may have had. It also shared some tips on caring for your mattress topper.
Happy Sleeping!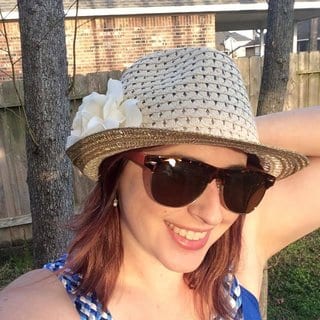 Head of Content at Sleepedia
ABOUT
Lauren is Sleepedia's Head of Content and is a certified sleep therapist who loves her sleep. Lauren helps people to get back to those deep, dream-filled nights they once had by helping to identify problems with their routine and sleep setup. Whether it's a mattress or pillow, Lauren researches the best products in the industry to provide you with an in-depth review of everything you need to know to encourage your buying decision.