Best Bamboo Pillow [Review] in 2021
Last Updated on March 11, 2021
written by sleep expert Lauren Hall
See full list of products
Find the products quick - here are the review winners
Bamboo pillows are made with a mix of both eco-friendly bamboo fibers and other bedding materials, typically polyester or rayon, and are usually packed with shredded foam or foam blends for the filling. They offer a wide range of benefits, from their durability to their light breathability, and from their hypoallergenic and antimicrobial properties to their ease of adjustability. If you're searching for the best bamboo pillow, then this helpful guide will tell you what you should consider when choosing a new pillow, as well as compiling our list of the top five best bamboo pillows! We will only be covering pillows with the traditional, standard shape, not wedge pillows, body pillows, or other uniquely or specially shaped pillows, so let's jump into our picks of the best bamboo pillows.
The Best Bamboo Pillow Reviews
Snuggle-Pedic Viscose Bamboo Shredded Memory Foam
Snuggle-Pedic is a subsidiary brand of Relief-Mart, a relatively well-known brand that makes health products, so all of its products are designed for better support of the body, even when they're not 100% focused on that subject. This particular pillow comes in standard, queen, and king sizes and has a customizable thickness. The Snuggle-Pedic Viscose Bamboo is an incredibly versatile pillow and is equally comfortable for sleepers of all varieties.
Read more
This is due to the fact that it has a removable filling and its height and loft are therefore adjustable. You can easily remove and add filling depending on your comfort and needs, making it thinner for stomach sleeping and thicker for side sleeping.
As a filling, this pillow uses a mixture of shredded memory foam and shredded normal foam, which are in varying shapes, sizes, and colors.
The downside to this is that they're very small and may be difficult to manage when you're trying to adjust the amount of fill inside it, but that's part and parcel of most pillows of this variety.
The foams used are a hypoallergenic VOC Biogreen memory foam that is environmentally friendly and a mix of foam that is CertiPUR-US certified, so no materials in this pillow contain harmful chemicals or toxins.
This foam is kept in a cotton casing, and over that casing is a Kool Flow Micro-vented cover made from a bamboo, lycra and polyester blend. The cover has a pleasant smell, is very breathable and soft, and prevents sleeping hot.
This pillow uses airflow technology to keep you cool as you sleep, and in terms of firmness, it falls somewhere in the middle of the spectrum, though this means it might be a little too firm for some sleepers.
Regardless, it contours to head shapes well and offers great amounts of support that can curb and relieve pain in the neck and shoulders with regular use.
However, although it is relatively durable, you will have to fluff and redistribute the foam filling often, and you may find that smaller foam pieces become less responsive with time.
This pillow is machine-washable and dryable, and it comes with detailed instructions on how to do so, whether you choose to use machines or do the tasks by hand. These instructions also cover ways to fluff and care for the pillow.
While pricing on the higher side, its rave reviews, excellent certifications, and the reputation of its company mean it could bring good value for money to buyers. It also comes with a 90-day free trial so you can give it a test run with peace of mind.
Xtreme Comforts SlimSleeper Bamboo
This pillow is designed specifically for stomach sleepers, or simply for those who enjoy or prefer using thinner pillows – both of which are demographics rarely ever catered to in the world of bedding. As such, it's little surprise that this pillow has become quite popular among those who need its structure and features, especially since it is also a good option for back sleepers and a decent one for side sleepers.
Read more
This pillow comes in standard, queen, and king sizes and has a loft height of about 5 inches. The Xtreme Comforts SlimSleeper Shredded Memory Foam Bamboo Pillow is made with shredded memory foam as a filling, providing a sleeping surface that is both soft and easily compressible.
All foam used is CertiPUR-US certified, so it is free from toxic chemicals, flame retardants, or potentially dangerous manufacturing processes.
It has very little off-gassing and does not emit any volatile organic compounds. Unfortunately, it is not adjustable, so what you see is essentially what you get. Still, you can shape the pillow as needed for better positioning. These foam bits are covered with a natural antibacterial, hypoallergenic, and anti-dust mite and antimicrobial bamboo cover.
The cover has a Kool Flow design to enable extra breathability, making sure you sleep cool, and it comes off with a zipper. It is quite durable, being double stitched on all sides, and it is plush, very soft, and exceedingly comfortable. You can, of course, opt to use an additional pillowcase over it if needed, but this is not necessary.
From a comfort standpoint, the pillow easily takes the weight and redistributes it evenly, with plenty of space to allow breathability and airflow for a cooler sleep.
Despite its shredded filling, it maintains an unyielding surface that provides more than enough support for your head, neck, shoulders, and upper back.
Essentially, this pillow offers all the benefits of memory foam, but with better breathability and the added plus points of bamboo. It has a medium softness, and it can be easily shaped depending on your preferences, though some may find it too soft and plush.
The Xtreme Comforts SlimSleeper Shredded Memory Foam Bamboo Pillow has a 30-day trial period with a money back guarantee, so if you're curious but unsure, you'll be able to purchase the pillow and give it a test run.
It is decently affordable, is machine washable and dryable, and comes with details care instructions, making it a good pillow option for many, especially stomach sleepers!
Coop Home Goods Adjustable Bamboo
The Coop Home Goods Adjustable Bamboo comes in the queen and king sizes and has a maximum loft of 8 inches that can be adjusted, making it highly versatile and suitable for all.
The Coop Home brand, run by a brother and sister, is well known for creating innovative products of a high quality, giving this pillow a good name to back up its claims.
Read more
This model is made from pure shredded memory foam filling that is specially made for Coop Home, and the filing is adjustable so you can change its composition based on your needs and sleeping position.
The viscose-elastic foam is in very small pieces, which can make adjusting a bit of a hassle, but it allows for better versatility regardless.
The foam easily stays breathable and fluffs up quickly and has a quick reaction time. You can also move the filling around within its casing to get the shape you want.
The foam used is CertiPUR-US certified, free from potentially harmful chemicals and processes, and it is hypoallergenic and resistant to dust mites.
This filling comes coated with premium combed microfiber in an inner casing made from Interlock fabric, which is smooth and thin so as to provide a uniform feeling when laying on the pillow.
The outer pillowcase on top of that is made from 60% polyester and 40% bamboo, and it has a nice embossed texture while being plush and breathable at the same time. This outer cover wicks away moisture and is double stitched for durability.
From a comfort standpoint, the Coop Home Goods Adjustable Bamboo offers plenty of support and a medium firm feel, though it may seem too firm for some sleepers. It is very thick and makes a great side sleeping pillow, and a good back and stomach sleeping pillow.
It is soft but does not compromise on support, so you'll still feel like your head is held up and cradled as needed. It is also quite durable, but after a long time of usage it is likely to begin falling flat, so you will have to fluff it up frequently as directions recommend.
This product is machine washable and dryable for added convenience. While it is priced a little more highly, it does offer good value for money and is still relatively affordable.
Perhaps its best-selling point is its fantastic limited warranty of five years and its 30-night free sleep trial, which ensures the most peace of mind you could possibly get from a pillow. As such, it's definitely worth a try for a more luxurious feeling pillow that you can rest easy on!
Original Miracle Bamboo Shredded Foam
This pillow comes in king and queen sizes, has a loft of approximately 7 inches, and is designed to be versatile enough to use for any sleeping position. The company also claims that you can compress the pillow and roll it up to bring for travel and unravel it in perfect condition as needed.
This pillow is filled with a blend of memory foam and polyester that is very malleable and contours well to the head and neck, so it will likely reduce soreness when you use it. The filling makes the pillow relatively breathable and cool, too.
Read more
This filling is covered by a cotton casing that is highly durable, and over that cotton cover is one made from bamboo fibers, which can be put on and removed through the use of a zipper that has been double stitched on for added durability.
While the Original Miracle Bamboo Shredded Memory Foam Pillow does not have a removable filling, it can be easily shaped in different ways in order to cater to different sleeping positions.
In fact, there are directions that come with the pillow that show you the correct way to shape and fluff it depending on how usually sleep.
However, objectively, it is a great pillow for side sleepers, a good one for back sleepers, and a passable one for stomach sleepers. Still, the feel of the pillow may take some getting used to before you are able to enjoy it.
In terms of comfort, this pillow might be slightly too firm for some, but the polyfill blend inside it allows for a nice soft texture that almost mimics that of a down pillow. Although it contains shredded foam and materials, you will not feel individual pieces through the cover while resting on it.
The pillow is machine washable and dryable, and it comes with a 30-day trial period through Amazon that makes it worth the buy.
However, many of the claims that this brand makes about this pillow don't have a lot of information or even labels to back them up, so you may want to take its promises with a pinch of salt, and bear in mind that it has no health or safety guarantees.
Still, despite that, the pillow works well, is versatile, and provides lots of comforts, and it's priced reasonably, so you may feel inclined to give it a shot anyway!
Clara Clark Shredded Memory Foam
This might not be the most popular of its variety, but we believe it's rather underrated. It's very inexpensive, comes in queen and king sizes, and has a unique embossed bamboo pattern that provides a nice sleeping texture.
It's a little more difficult to find and purchase, but if you want something that won't burn a hole in your pocket while having a good bang for your buck, this one might just be it.
The pillow is filled with pure shredded memory foam that contours to the head easily and can be shaped and fluffed as needed.
Read more
These foam pieces are encased in larger foam that covers it in order to prevent an uneven feeling when sleeping.
Over that is a pillowcase that is made from 60% microfiber and 40% bamboo rayon, which is extra breathable, very soft, and hypoallergenic. It is also resistant to dust mites and bad bacteria.
Comfort-wise, the Clara Clark Shredded Memory Foam Pillow falls on the firmer side but is still soft enough to be comfortable and cozy.
It is breathable and sleeps cool and can help to reduce pain and aches in the neck and back. It naturally supports proper spinal cord alignment, too. While the brand does not recommend removing the filling, it is easily malleable and can be shaped as you see fit.
It is known for being a perfect pillow for side sleepers and a good one for back sleepers. However, due to its height, it may be too high for stomach sleepers to rest comfortably.
This product has a 30-day money back guarantee through Amazon and a 100% satisfaction guarantee as well, which is what you'd expect from a product at this price.
It is also machine washable in cold water and machine dryable on low heat. Overall, although it's not as common a purchase and has its share of downsides, this is a great budget-friendly model that will provide good quality without breaking the bank.
Do you like the feel and texture of bamboo woven nicely into your pillowcase? Of course, you do. And you have come to the right place as this bamboo pillow will provide you with the perfect blend of plushness and functionality. The design is super simple with the minimal engraved bamboo branding and leaf art that looks clean and beautiful. You have 3 different size options as well that are standard, queen and king. The build quality on this one is amazing, and it will last you a good while without feeling like changing it. 
Read more
It is super soft and plush for all your comfort needs. The shredded memory foam inside conforms to the shape of your face and provides great cushioning and support. The foam is CertiPUR US certified and is very breathable. This also means it is eco-friendly and was not made using any harmful chemicals whatsoever. Ideal for all sleep positions and is also super easy to maintain and clean. Overall, this one is a major win and you will love what you get.
Ik Bamboo Pillow (2-Pack)
IK bamboo pillow is all that you come to expect from a well-built and strong bamboo pillow that is comfortable and plush at the same time. The design language on this one is simple and elegant. It has minimal sideway branding that looks sleek. Blends in well with all your setups and you will love the look of it. The build quality speaks for itself as it is well put together and will last a very long time before giving in. The pillow is super plush and soft. It will satisfy all your comfort desire and will enable a peaceful and sound sleep. The shredded memory foam inside makes for a high cushion and support experience that allows your body to rest well without exerting any of its own energy. It is super easy to clean and is also CertiPUR US certified. Ideal for all sleep positions and different sizes are available as well. Overall, this one is a great choice.
Handua Premium Bamboo Pillow [King Size 2 Pack]
Handua has a premium offering for you when it comes to well-made bamboo pillows. The style is super minimal as the design comprises of an all-white background with little branding on top. It gives a very serene vibe and looks good on all beds. You also have different sizes to choose from like queen and king. The build quality is great as expected from a good product. It will last you a long time as it is durable. The comfort level is also up there as the pillow is plush and soft. The memory foam inside allows for great cushioning and supporting experience. The easy zipper opening allows you to adjust the volume of memory foam inside. It is also very easy to maintain and clean. It is CertiPUR US certified and is made from no harmful chemicals. Overall, this one is a great choice for you to consider.
PLX Bamboo Pillows for Sleeping
Plixio has a nice bamboo pillow waiting for your head to lay down on it. This one has a graceful look with the all-white background. The branding is also minimal and stays out of the way for the most part. The pillow looks beautiful on a bed and you will love it. Its available in queen size which is a good size. The build quality is top notch which means you will get high functionality and a long life out of this one. The durability is on point and it can take some beating easily. The foam is super plush and comfortable for you to rest on. It is shredded memory foam that conforms to the shape of your body and provides support and cushioning. It is also washable and hypoallergenic which means you will not have run ins with any allergies. It is easy to clean and maintain. Overall, this one is a no brainer for sure.
Dreaming Wapiti Pillows for Sleeping
If you are a minimalist, then you have stumbled upon the best option you will find as far as bamboo pillows are concerned. The all-white color is amazing and looks clean. There in no branding on the pillow which is a huge plus and hard to find. It looks elegant and gives a very graceful vibe. Will go great with your setup and blend in perfectly. You have different sizes to pick from as well like queen and king. The pillowcase is made from 60% polyester and 40% rayon. The build quality is nice and will last you a good while. It is super comfortable and plush to sleep on. The shredded memory foam does an amazing job at conforming to the shape of your face for support and cushioning. The pillow is super easy to clean and maintain. It provides a hassle-free cleaning experience. You get a 1-year trial for the cushion as the company is super proud of their product. Overall, this one is a winner.
WonderSleep Memory Foam Bamboo Pillow
As the name suggests, Wondersleep is here to remove all your sleeping issues associated with the pillow and enable a wonderful sleep at night. You will feel well rested and wake up feeling fresh. The design is ultra-simple and minimalistic. It looks clean and stays out of the way most of the time. It has a queen size which is enough for most. The build quality is great as it will last you a long time. It is durable and can take a beating without any problem. The shredded memory foam enhances the already great softness and plushness of the pillow and makes it more comfortable. The cushioning and support you get from memory foam is great. It is also easy to maintain and clean. Overall, this one is a great choice and you cannot go wrong with it. It is hypoallergenic, cool and offers a 1-year warranty as bonuses.
EcoTrueBamboo Bamboo Deluxe Pillow
EcoTrueBamboo brings color and design for a bamboo pillow to a whole new level. Their minimal yet beautifully archaic approach speaks to a lot of people. The light brown colorway to go with the bamboo leaf art lifts up the vibe in any room. It looks clean and goes well with all settings. But design is not the only thing this pillow is good at, as the functionality is on point also. The size options available for you to pick from are queen and king. The build quality is top notch and you will not have any durability issue. The pillow is super soft and plush for your comfort needs. It enables a very peaceful sleep at night. The pliable memory foam is there to conform to the shape of your head and keeps your spinal column and your neck and back aligned properly. It is easy to maintain and overall, a nice addition for your bed.
Napvibes Memory Foam Pillow
Napvibes has an interesting take at bamboo pillows as the shape of this one is different from the rest. It has a very ergonomic shape, and this allows your neck and head to have extra support while you sleep. The wave like shape allows for increased functionality and better sleeping experience. The all-white colorway looks clean with the minimal bamboo branding on top. The pillow has good size and will look clean on your bed. You would really appreciate the shape of the pillow. The build quality is great as it is well-made and durable. It can take a beating and will not fall apart. The memory foam inside further improves your sleep by conforming to the shape of your body and allows for better support and cushioning. It is soft and comfortable to sleep on. The maintenance is easy, and the stains are washable. Overall, this one is a steal.
COTTONHOUSE nails the competition when it comes to simplicity and functionality. With a super simple yet elegant design, they aim to achieve what many can't. And they succeed in doing so with this bamboo pillow. The design is all-white and simple. It looks very graceful and goes well with all setups. It has crisscross pattern on the top and looks beautiful. The standard size you get is enough and the build quality is top notch. It is made with strong fibers that do an amazing job at keeping it in one piece. The soft foam inside allows for a plush and soft experience as you lay down. It is memory foam, so it conforms to the shape of your head and enables you to have support and proper cushioning. Maintenance is also super easy as it is effortless to clean. Overall, you will have a good time with this one.
Shredded Memory Foam Pillows
Qutool brings you a great pillow with simple yet beautiful design. The irregular polygons look clean and go with all settings easily. The all-white finish is also home-friendly and will uplift the energy in any room. The pillow is big enough to accommodate you easily and is well built for long term use. Pillow is very comfortable and soft to sleep on. You and your loved one will absolutely love it and it will last you a long time. The memory foam inside the pillow conforms to the shape of your head and makes it easier to have better support and cushioning. You will sleep soundly and wake up well rested. The maintenance is also very easy as the stains come off without issues. The material used is eco-friendly and you will not have any allergies with it. The company offers a 5-year warranty with the pillow which boosts your confidence in the pillow. Overall, this one will keep you happy.
What To Look For in A Bamboo Pillow
Comfort and Sleeping Positions
This is the single most important aspect to keep in mind when you're looking for a pillow – what's your usual sleep position? This will affect how comfortable a pillow is for you.
While materials and filling play into comfort, ultimately if it isn't designed for your sleep style, it won't work as well for you. Let's talk about the needs of each.
Back Sleepers
Back sleepers will need a pillow that holds up their head's weight in such a way that it stays aligned with their shoulders.
This usually means using one that is relatively thin but still supportive, though not so thin that it does not fill out the gap that your neck creates. If thin pillows are not your thing, loftier heights will work fine if it has a soft filling.
Side Sleepers
Thick, tall, or gusseted varieties are the best for side sleepers, simply because this helps fill the gap in the curve of the neck.
In order to sleep healthily this way, your head must be held at the right height so it stays aligned with your neck and shoulders. Firmer models are usually the best option in this case, but if you tend to sleep with your arm tucked beneath your head, softer pillows will be better.
Stomach Sleeper
Stomach sleeping is the most potentially damaging of the sleep positions, simply because it causes your body to have to go against your spinal cord's natural curvature as you turn your head to the side.
The best option for this is to opt for a very thin and very soft pillow, so your head stays as close to the sleeping surface as possible.
Sizes and Body Alignment
This should go without saying but you should ensure that the pillow you're aiming to purchase is the right size for both your needs and your bedtime activities, such as reading or watching TV.
Most come in a couple of standard sizes that match up to standard mattress sizes, so make sure you're not buying ones that are too big or too small. Some might have a removable filling so you can adjust the size and height of it to your liking.
Taking notice of dimensions is also important for determining how thick or thin a pillow is, allowing you to gauge which is the best for your sleeping position, as mentioned before.
The importance of choosing a pillow that complements the alignment of your neck and back cannot be taken lightly.
A pillow plays a huge role in your overall sleeping posture and using the wrong one can cause pain in the neck, shoulders, and back, and even result in spine misalignment in the long run.
It can cause your health to deteriorate, forcing the body to adapt to a position that is unnatural to it, disrupting restful sleep.
The easiest way to ensure that your neck and back are well aligned when using a pillow is to try it out yourself.
However, if you plan to buy online and cannot try the pillow in person, take note of dimensions and choose one that is the right height. Have a partner help take measurements of how thick the pillow has to be.
Filling
Most bamboo varieties are filled with a variety of memory foam or a blend of memory foam and other components, and this filling can determine how soft the pillow is or what sort of texture it has.
Test out a few filling options and see which ones best match your comfort needs. Keep in mind that the filling amount of a pillow will affect how tall it is.
Health and Safety
Most bamboo pillows are already naturally hypoallergenic, so they're safe bets to make if you have allergies and want a safe pillow to use.
However, you might still want to ensure that the pillow you've chosen very clearly claims to be hypoallergenic, and it helps if they have antimicrobial properties, too.
Most don't come with any certifications, but those that do can guarantee that the foam used in the filling is not made with harmful chemicals that reduce air quality and create an unpleasant off-gassing smell.
Convenience
Depending on how much time you have and how much effort you want to put into the maintenance of your bamboo pillow, you might what to opt for ones that have machine washable and machine dryable pillowcases.
Otherwise, you may end up with ones that need to be washed by hand and air dried for much longer periods of time. Make sure to read the care instructions and labels on a pillow before buying it.
As for the pillows themselves, if they contain memory foam, you probably should not wash them unless absolutely necessary, as memory foam takes a long time to dry and will break down and face damage if not sufficiently dried.
Even if your pillow claims to be machine washable, do not toss it in there unless absolutely necessary. To get rid of dust mites, odors, and other particles, throw it in the dryer instead, if it is compatible with one!
Durability
No one wants a pillow that will get destroyed within a few months of usage, or suddenly become flat and unappealing to use after mere weeks. That's why it's important to ensure that the pillow you purchase comes from a reputable manufacturer.
Not many come with a warranty, but some may have a return policy or trial period that offers some extra peace of mind.
What benefits come with owning a bamboo mattress?
There are many advantages to having a bamboo mattress to go with your bamboo pillow.
A bamboo mattress is organic. The advantage of that is there will be no dust mites as it is a dust mite repellent. And the fewer the dust mites, the lesser the development of allergy symptoms. It also has mold resistance which means you will not have to worry about changing it a lot. It is anti-bacterial as well in a natural way. Since the mattress is organic, it is eco-friendly and chemical free. This means its neither harmful to you nor the environment. It wicks moisture and has absorbent properties as well. The organic nature allows it to remain breathable throughout the time it is with you. The use of biodegradable materials in an organic bamboo mattress allows for it to be recycled easily.
A bamboo mattress remains cool when sleeping and does not run hot. This can help prevent sweat build ups at night, especially people who sweat a lot or sleep hot. It enables you to sleep peacefully and without the irritation of hot temperature.
Perfect for all sleeping positions:
A mattress that is organic is perfect for pretty much all sleeping positions. This is because a more natural mattress will be more forgiving and will conform to your sleeping habits and behavior. As compared to a synthetic mattress that will be firmer and not allow you to fully find the best position for you when sleeping.
This one has been discussed before in the "organic" category. An all-natural mattress keeps the bacteria from growing on it. It does way better than synthetic mattress that can be housing a lot of bacteria in it.
Bamboo mattress is hypoallergenic and does not allow any allergies to stay on it. This enables you to sleep without having any issues unless you are allergic to bamboo.
How to care for a bamboo pillow after purchase?
To care for a bamboo pillow is easy but very important. Most of the problems happen when you try to wash them. They do require washing but in a specific gentle way that we will discuss. To wash a bamboo pillow, you need to remove the bamboo cover and machine wash it. You have to do this on a gentle cycle with warm water, so it doesn't get ruined. Hand wash the memory foam pillow. This is important because washing it in the machine can ruin it. Rinse the pillow thoroughly until no soap left and then let it dry.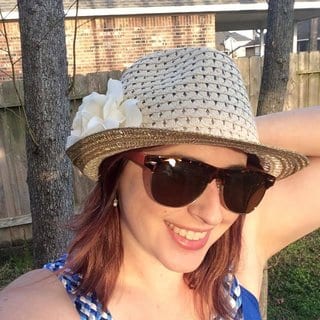 Head of Content at Sleepedia
ABOUT
Lauren is Sleepedia's Head of Content and is a certified sleep therapist who loves her sleep. Lauren helps people to get back to those deep, dream-filled nights they once had by helping to identify problems with their routine and sleep setup. Whether it's a mattress or pillow, Lauren researches the best products in the industry to provide you with an in-depth review of everything you need to know to encourage your buying decision.